Jewish World Review Oct. 16, 2007 / 4 Mar-Cheshvan
Off we go again, to process peace
By Wesley Pruden


http://www.JewishWorldReview.com | One of these days an attempt to make lasting peace between Israel and the Palestinians will succeed, but it might be on the day after that roomful of monkeys with typewriters finish the manuscript of "War and Peace."

Condoleezza Rice is in Jerusalem this morning, trying to "spark the region" with the news that the United States will set up an international peace conference next month in Annapolis. It's all about a legacy for George W. Bush. Organizing a Palestinian state is essential, she said, and it has the highest Bush priority.

"Frankly, it's time for the establishment of a Palestinian state," the secretary of state told reporters after four hours with Mahmoud Abbas, the president of the Palestinians, now without a state. "The United States sees the establishment of a Palestinian state, a two-state solution, as absolutely essential to the future, not just for the Palestinians and Israelis, but also the Middle East and indeed for American interests."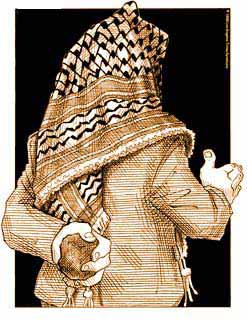 The dilemma, diplomatically unspoken, is that the Palestinians — and their regional enablers — don't actually want a two-state solution. They want a one-state solution, and if they stall, delay and dodge long enough, the rest of the world will grow weary with intransigence and tell the Israelis to shut up already and let the barbarians, who send women and children to blow themselves up along with whoever may be unlucky enough to be standing nearby, take it all.


Civilized men and women, both of the West and of whoever among the Palestinians who yearn for something better than they have, must keep trying. We can hope, as Miss Rice predicts, that there's "going to be a serious and substantive conference that will advance the cause of the establishment of a Palestinian state. We frankly have better things to do than invite people to Annapolis for a photo op." But the rest of us are entitled to think that a photo op, with the pols standing around looking for a cucumber sandwich and trying to look useful, is all that Miss Rice will accomplish in Annapolis.


Negotiators for both Israel and the Palestinians already disagree on what they want to talk about, much like the famous argument between Henry Kissinger and Le Duc Tho about the shape of the table at those long-ago "peace" talks to strike an end to the Vietnam War. The parties finally agreed on the table and an agreement that enabled Mr. Kissinger and Le Duc Tho to fly to Oslo to pick up their Nobel Peace Prizes. Then the Communists took South Vietnam. (Nobel laureates get to keep their peace prizes; there is no money-back guarantee.)


But Israel can't afford to make sucker deals. The Palestinians want a detailed laundry list of goodies, with delivery dates carved in a hard wood if not in stone, and iron-clad solutions to "core issues," agreed on now. The Israelis want a measured approach, with what the diplomats call "confidence-building steps" before anyone carves anything in wood or stone. The laundry list, agreed on now, would give the game to the Palestinians. They could behave as they have in the past, stalling, delaying and dodging, confident that the rest of the world will blame the Jews for the Palestinians not living up to the bargain.


Who can blame the Israelis for smelling a mouse, if not a rat? Condi Rice first told the reporters yesterday that there won't be an attempt to solve everything in Annapolis, "but it does need to be a serious and substantive and concrete document that demonstrates there is a way forward." She later "clarified" her remarks. She did not mean that the Annapolis conference should give the Palestinians everything they want.


Mr. Abbas emerged from his talkathon with Miss Rice with a list of what the Palestinians want in exchange for a promise to quit killing Jews: restored borders, settled refugees and a piece of East Jerusalem, which would become the capital of the Palestinian state. That's a lot to ask from a man who doesn't believe in Christmas and Santa Claus.

Every weekday JewishWorldReview.com publishes what many in in the media and Washington consider "must-reading". Sign up for the daily JWR update. It's free. Just click here.

JWR contributor Wesley Pruden is editor in chief of The Washington Times. Comment by clicking here.

© 2007 Wesley Pruden