Roger SimonMona CharenLinda Chavez
Jacob SullumJonathan S. Tobin
Thomas SowellWilliam PfaffRobert Scheer
Don FederCal Thomas
Jewish World Review / February 23, 1998 / 27 Shevat, 5758

Chris Powell

<!
Abe Ribicoff's talent was to make being politically shrewd look classy
EVEN IN CONNECTICUT no one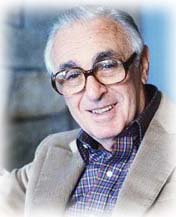 could last four decades at the highest levels of public life without being great. But Abe Ribicoff's greatness was that of the politician, not the world saver.
Lowell P. Weicker Jr., who served with Ribicoff in the Senate, recalled his former colleague yesterday as someone who "did what he thought was right and the devil take the consequences" -- the sort of tribute that Weicker bestowed on himself in his autobiography a few years ago. But back when Ribicoff was governor, the historian Albert E. Van Deusen credited his success to something else: "an unerring instinct for the right move at the right time in the complicated game of politics."
Weicker's recollection was eulogy that could become myth. U.S. Rep. Barbara B. Kennelly, who, as daughter of Democratic State Chairman John M. Bailey knew Ribicoff almost from the beginning, was much closer Sunday. "He had incredible dignity," she said. Kennelly's remark and Van Deusen's history hint at Ribicoff's talent, which was for looking classy while being shrewd.
This was not necessarily to be wrong; in 1958 Ribicoff would not have been given the greatest re-election of any Connecticut governor if he had not been friendly and modest as well as an efficient and honest administrator. But Ribicoff's political career was not filled with the great battles of principle for which Weicker would like them both to be remembered.
To the contrary, in his first term as governor Ribicoff deliberately led Connecticut's Democratic Party away from such battles, which Democrat Chester Bowles had waged in his brief gubernatorial tenure and which cost him re-election in 1950. After Ribicoff's election in 1954 it would be almost 40 years before Connecticut's Democratic Party again could bring itself to support progressive taxation. Democrats who thought themselves principled called Ribicoff the best Republican governor Connecticut ever had.
But in getting the party to give up those battles, Ribicoff greatly eased the its way to majority status in Connecticut. After all, the state was much more Republican in 1954 when Ribicoff, then a former U.S. representative and municipal court judge, defeated a Republican governor, John D. Lodge, by three-tenths of a percent. Ribicoff was the only Democrat on the state ticket elected that year and had to face Republican control first of the state House of Representatives and then of the state Senate as well. So how much choice did Ribicoff really have about replacing the charged issues of economic class with unideological issues like highway speeding and flood relief?
Only Ribicoff's personality explained his first election as governor. Indeed, an overwhelmingly Yankee Protestant and ethnic Catholic electorate probably chose him more because he was Jewish than despite it. His famous "American dream" radio address in the last days of the 1954 campaign, broadcast to counter what was said to be hateful whispering against him, won the votes of many who did not want to be thought bigoted. The radio address may have been just as manipulative as today's political complaints of racism are, but in what would become Ribicoff style, it was brilliantly high-minded.
Bored with the governorship in 1961 and excited by his intimate participation in John F. Kennedy's successful campaign for president, Ribicoff resigned to go to Washington as secretary of the Department of Health, Education, and Welfare. In a retrospective interview with the New Haven Register in 1985, he contradicted any suggestion of his always having done the right thing.
"It was the only job I really didn't like," Ribicoff said, because "I suddenly found that in the Cabinet I was advocating positions I didn't believe in and was against positions that I did believe in."
So in 1962 he returned to Connecticut to seek the Democratic nomination for an open U.S. Senate seat. In this he relied on Chairman Bailey's rawest political bossism to crush a challenge by U.S. Rep. Frank Kowalski at the state convention and prevent a primary Ribicoff might have lost. But Bailey saw that Ribicoff would be the stronger candidate in the election, and he won, though not by as much as expected.
In the Senate Ribicoff was artful with some tough situations.
Citing compassion, he was one of only five senators to vote against censuring his colleague from Connecticut, Thomas J. Dodd, in 1967. This compassion happened to avoid antagonizing Dodd's many friends back home just as Ribicoff's re-election campaign was about to begin.
And Ribicoff moved cautiously but with amazing success as the Vietnam War exploded as a political issue in 1968. He stayed loyal to President Lyndon B. Johnson and Chairman Bailey until Johnson withdrew as a candidate for re-election in March. To assuage bitterness at the state convention that summer, Ribicoff gave the anti-war people his seat as a delegate to the national convention in Chicago. At the national convention he abruptly nominated Sen. George McGovern for president and, on national television, condemned "Gestapo tactics in the streets of Chicago," thereby bringing the anti-war people firmly into his campaign after Hubert Humphrey's nomination for president left them nowhere else to go. Ribicoff endorsed Humphrey enthusiastically only in October as the presidential campaign suddenly tightened.
Thus Ribicoff was comfortably re-elected in the most politically turbulent year since the Civil War. And with a Republican, Richard Nixon, now in the White House, Ribicoff could bring himself to oppose the futile war -- later than some in politics, still earlier than many.
But there was nothing short of grace in his retirement in 1980, when he well might have had another term. Ribicoff gave up power while he was still the master rather than risk embarrassment by clinging to it until the end. In his occasional public and advisory roles afterward he was the definition of the elder statesman. In 40 years in politics he had never disgraced himself. Every day lately seems to make that more of an accomplishment.

---
Chris Powell is managing editor of the Journal Inquirer in Manchester, Conn. He makes his debut in JWR this issue.

©1998, Chris Powell