Joel Bainerman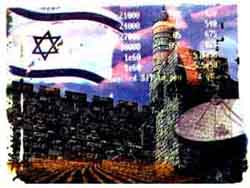 Israel: Hot Market Targeted For Foreign Acquisitions

WHEN THE FIRST ACQUISITION of an Israeli company by an American high tech firm occurred in October l994, the price Intel paid for LAN software developer, Shany Computers, was only $9 million. When America Online bought the internet company Mirabilis last June, the price was $407 million.
In a span of three and half years, Israel has become one of the hottest high tech acquisition markets for American firms.
The trend began quite modestly. By the end of l995, NEC had bought a losing education software developer, Edunetics, for $12 million. Atlanta-based HBO & Co. bought Jerusalem-based Pegasus Medical for $14 million --- a developer of computer-based patient record systems. America Online purchased Internet developer Ubique for $14 million, and Siemens's Network Division paid $25 million for data communications equipment maker, Ornet. The only deal of any real size was 3-Com's purchase of Nicecom for $59 million.
By mid-l996, the deals were getting consistently larger. Bay Networks bought Armon Networks for $33 million. US Robotics paid $72 million for Scorpio Communications. Applied Materials announced the two biggest deals to date: $285 million for Opal and Orbot Instruments, two semiconductor equipment manufacturers.
Then, the big money kicked in. In 1997, Boston Scientific purchased Medinol for $240 million --- a company which had developed a stent which can obviate the need for bypass surgery for heart disease patients. Medtronics acquired InStent, another Israeli stent manufacturer, for $200 million. That September Johnson & Johnson paid $400 million for the biomedical firm Biosense. Another gigantic deal in the biomedical field came in January l998 when General Electric bought Diasonics for $230 million.
Then came deals for companies which had not even existed two years ago. Mirabilis, which develops the ICQ communications program that performs rapid messaging between Internet surfers, and Kodak's purchase of 51% of PictureVision for $52 million. PictureVision had developed a new product called PhotoNet, which facilitates use of the Internet to distribute pictures. Cisco Systems, in their first purchase of a company outside of the US, acquired Class Data Systems for $50 million.
Last September, telecommunications company Teledata Communications was sold to the American company ADC for $15.75 per share, a price that gives Teledata a value of some $200 million, 20% higher than its stock market price. Teledata specializes in products for connecting public telephone exchanges to the user's home. The company's main customers are in Europe, the Middle East, South Africa, Australia, and South America.
These deals proved that Israeli high tech had not only penetrated the radar screen of certain American electronics firms -- such as Motorola and Intel, a process whose genesis began with the establishment of R&D centers in Israel in the early and mid-l980's -- and that American venture capital funds were sniffing out Israeli deals already back in l995, but that a variety of American companies realized that Israel had become a source of cutting edge technology.
Indeed, the Americans knew a good thing when they saw it, and they were willing to pay big bucks to get it to the global market first.
Instead of establishing strategic alliances -- which was the conventional route Israeli-American high tech cooperation took until that point -- they found it was simply easier to buy a company outright. That way, there was no need to deal with different business cultures.
Israeli companies and their entrepreneurs had been propagated by their government and the country's high tech experts to believe that survival in global markets depended on joining with a major "strategic partner" and required the marketing/distribution capabilities only multinationals could offer. Thus, several Israeli technology leaders took the equation to its logical conclusion and sold out to the highest bidder.
Another factor in this trend was the reality that many Israeli companies operate in a niche market and could potentially wake up one day to find that they are working in the backyard of a large multinational firm.
Chemmie Peres, a veteran Israeli venture capitalist, told this writer back in early l995 when the first M&As were occurring, that: "When a niche market becomes a mainstream market, for many [Israeli technological bigs] the alternative will be between raising a lot of money and competing head-to-head with the foreign rival, or selling the company at a huge profit to one of the major players in the market."
Today, Peres is singing a different tune. While running the Mofet venture capital fund from l993-l997, Peres invested in several of the early buyouts to American firms, including Scorpio, Shany, and Nicecom. In those days, Israeli VC funds were typically under $25 million. Hence, selling to a foreign company produced big returns for funds that size.
Today, however, the funds are expoentially larger, and can't show such impressive returns unless the buyouts are in the $300-500 million range.
Peres, who today manages the $120 million Polaris Venture Capital Fund, asserted at a recent gathering of Israeli technological bigs that "Israeli high tech companies are persistently chasing investors in the US. The managers of these companies," he continued, "don't understand that in order to build a serious industry, there must be a slower process of cultivating companies before going public with them on Wall Street or selling them to foreign investors."
Peres went on to attack the managers of Israeli high tech companies, claiming they are engaging in short-term thinking. According to him, the executives have convinced themselves that selling a company as soon as possible to American investors -- or taking their company public on American exchanges as quickly as possible -- is the wisest route. And that, he asserted, is a mistake.
Israeli CEOs, he asserts "don't think one meter ahead of the exit strategy."
It for this reason, he asserts, that a real Israeli technology industry has never taken root.
"Instead of companies focusing on developing their business for the long-term, which would create an advanced industry that would contribute to gross national product and economic growth," Peres observes, "the good companies are acquired by foreign giants. Afterwards, the manufacturing centers are changed into development centers, while the developed products are marketed by the acquiring companies' marketing channels."
Peres believes Israeli companies should aspire to a situation in which they are dominant in the industry, and a scenario in which they are the ones acquiring foreign companies and, ultimately, creating a local technology market in Israel.
Memco Software proves Peres' point. The company went public in late l996 at a very high valuation. Since then, it has purchased two companies: American-based Network Information Technology and the Israeli start up firm, AbirNet. By going public, the company was able to use its shares as currency to purchase other firms. CEO Israel Mazin says that before it went public the company had many offers to be acquired by large, American firms. Nonetheless, it gambled on going at it alone.
"In high tech markets, it is a question of timing," Mazin says. "We went public when the market was hot and there were no clear market leaders. If we were to come to the market today we would have no choice but to be acquired."
For many Israeli managers, it isn't just the money an acquisition brings that motivates their actions. Perhaps more importantly, it's the "stamp of approval" of having "made it."
Israel is a fiercely competitive society where money alone is not enough of a reward. Accolades from friends, the press, and the government go far. While in the early l990's it would have been considered "unpatriotic" to be acquired by a foreign firm, today in Israel it is regarded as a mark of success.
For many Israelis, their cultural norms leads them to an acquisition. Israelis, after all, are not known for their patience and are always demanding quick results. This mentality plays itself out in the high tech arena.
Take for instance RADNet, which developed a multiplexer in ATM technology (fast communication protocol). In September l997, it was sold jointly to the German communications concern Siemens and Canadian company Newbridge --- for $75 million. The company's manager, Avi Domoshevizki, said one of the reasons the company decided to sell out early was that "an IPO would not take place before at least two years of sales."
For American companies, the attraction to the Israeli market is that innovative technology can be aquired at a very reasonable price, as many of the deals are paid for with a mixture of cash and stock. For some, like Lucent Technologies, which last August acquired all the shares of data communications manufacturer Lannet Communications for $117 million, the upside is not just innovative technology, but complete product lines.
"This acquisition helps fill an important space in our growing data networking portfolio,''said Bill O'Shea, president of Lucent's Data Networking Systems group. "This move will help us offer a comprehensive LAN switching solution."
That's great forAmerican companies like Lucent. However the question some Israeli high tech analysts are asking is: Beyond some instant cash, how are all these acquisitions benefiting the Israeli high tech sector and the Israeli economy?
In capitalist America's Silicon Valley, such questions would elicit a chuckle: "It isn't the role of entrepreneurs to worry about 'national economic goals,"' most managers would retort.
However, Israel is not the US. While there is a long American tradition of individuality first, national goals, second, Israelis, in contrast, carry with them five decades of statist-like thinking which sometimes makes it difficult to put the desires of the individual ahead of the state --- particularly since the country has fought countless wars demanding "country first"-like sacrifices from their citizens.
When the M&A trend began, it was met with mixed feelings. The companies were elated, as were their investors. The government, however, felt that "selling off the national technological jewels" was not in the national interest.
Knowing they couldn't step in and tell companies like 3Com and US Robotics that "Israel wasn't for sale" -- as the overriding goal was to make Israel an attractive destination for investment by American high tech companies -- they simply sat on the sidelines and kept silent.
All opposition from the bureaucrats was effectively quashed when the government realized after the sale of Mirabilis that the tax coffers would see a windfall of nearly $150 million --- practically the entire budget for R&D that the Ministry of Industry provides young start ups.
Selling off "Israel's national jewels" was no longer an issue.
At least in government circles. Privately, concerns began surfacing.
Shortly after the Mirabilis deal, Nisso Cohen, the lsraeli representative of the American consulting firm, IDC, penned a think-piece for the prestigious daily, Haaretz. In it, Cohen laments the "death of the Israeli high tech industry."
Cohen believes that by selling-off high tech companies too early,"the state of Israel rejected its golden opportunity to develop a genuine, mature, productive high tech industry."
"We have stopped developing for the sake of exporting," Cohen says. "We have stopped trying to build marketing and sales systems, because what's the point in them anyway? What is the point in investing a decade in struggling to succeed in world markets if one can make tens of millions of dollars in the space of a couple of years without actually earning one red cent from sales?"
Cohen's criticisms, the first hardcore to appear on the subject, were widely reported throughout the Israeli business press. Cohen also singled-out Israel's venture capital community, claiming that "the 'welcome' phenomenon of hundreds of millions of dollars made available to start-up investments has become the scourge of the industry."
Unlike Chemmie Peres, Cohen blames the fund managers as much as the entrepreneurs.
"The venture capital funds active in Israel today," he notes "see only the short term of two or three years ahead."
---
New JWR contributor Joel Bainerman writes on Israeli high tech from Zichron Yaacov, Israel. He can be reached by clicking here.