Jewish World Review July 14, 2004 / 25 Tamuz, 5764
Growing Each Day
By Rabbi Abraham J. Twerski

To purchase the book this column is excerpted from, please click HERE.
"From all those who have taught me I have gained wisdom."
— Psalms 119:99

http://www.jewishworldreview.com | The Psalmist is telling us that he learned from everyone, that everyone was his teacher. From some, he learned what to do; from others, what not to do.

If we learn from others' mistakes, we need not make our own.

Just as we can learn from every person, we can learn from every event. Positive experiences are obvious sources of learning, because each positive act we do adds to our character and prepares us to better face the next challenge in life. Negative experiences can be valuable, too, but only if we are sufficiently alert to learn from them.
TODAY I SHALL ...
... try to look for lessons from everyone and everything, whether my teacher is positive or negative.

The list of lessons that we have learned the hard way may be long, but each one has taught us what not to do and thereby it becomes a positive experience.

Indeed, the Talmud states that when people sincerely regret their mistakes and change themselves for the better, the wrongs that they did become actual merits (Yoma 86b). Only when we fail to learn from our mistakes and, rationalizing and justifying, obstinately insist that we were right, do our misdeeds remain deficits.

We have the capacity to make life itself a tremendous learning and growth experience.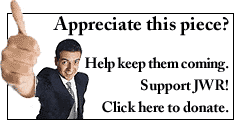 Every weekday JewishWorldReview.com publishes inspiring articles. Sign up for our daily update. It's free. Just click here.
---
Rabbi Abraham J. Twerski, M.D. is a psychiatrist and ordained rabbi. He is the founder of the Gateway Rehabilitation Center in Pittsburgh, a leading center for addiction treatment. An Associate Professor of Psychiatry at the University of Pittsburgh School of Medicine, he is a prolific author, with some 30 books to his credit, including, "Growing Each Day", from which this was excerpted (Sales of this book help fund JWR).

© 2004, Mesorah Publications, Ltd.