Jewish World Review Dec. 15, 2006 / 24 Kislev 5767
Festival of Lights
By Greg Crosby


http://www.JewishWorldReview.com | To many Americans, Hanukkah is often thought of as the "Jewish equivalent" to Christmas, partly due to its close proximity to Christmas on the Calendar, but also (thanks to the commercialization and secularization of the Christmas holiday itself) because of the desire of many to take part in the American tradition of Christmas gift-giving and good cheer.

By the 1890s, Christmas was firmly established as America's premiere season for gift giving. The holiday was rapidly becoming a national, rather than purely Christian, tradition. For millions of Jewish immigrants flocking into America from Europe, exchanging gifts with neighbors at Christmastime signaled their adaptation to their new home. Jewish immigrants had a strong desire to be included in the "American fabric." But at the same time, they didn't want to give up their religion. What to do?

Hanukkah, the Festival of Lights, has historically been only a minor holiday for the Jewish people, not an observance commanded by scripture but one of tradition.

Hanukkah is celebrated for eight days to commemorate the Jewish victory over the Syrians in 165 BCE. Despite overwhelming odds, the Jewish rebels were able to overtake the Syrian army and reclaim their Holy Temple in Jerusalem, which had been taken over and defiled by the Syrian invaders. Following their victory, the Jews vowed to cleanse the Temple and dedicate it anew to the service of G-d.

On re-entering the devastation that had been the Holy Temple, the victorious Jews were downhearted to see how it had been pillaged by the Syrians. Searching through the broken bottles of oil, for any that might have remained sealed and therefore still useable, they finally found one small flagon of oil with its seal still intact. This was enough to burn for one day, and eight days were needed, in order to prepare more olive oil suitable for this purpose.

Miraculously, this small amount of oil kept the Temple lights burning, not for one night, but for all the eight nights until new oil fit for use in the temple could be obtained. This is the miracle commemorated by the kindling of the Hanukkah lights.

But, this miracle notwithstanding, Hanukkah is not Christmas. Traditionally, the Jewish-American Hanukkah celebration went as follows. An 8 branched Menorah is lit over the course of 8 nights, adding an extra light each night. Menorahs are placed in the windows so that all who pass by can see and bear witness. Children play an important part in the holiday. They are given gifts of money (Hanukkah gelt) or small presents on each night. They spin a top called a "dreidel" which has a different Hebrew letter on each side and depending on which side comes up, the child either wins or loses the spin. There are traditional Hannukah foods, most of which are fried in oil in remembrance of the oil in the Temple that burned for 8 days. Potato latkes would be the most famous of these foods. Although there may be others, I know of only one really traditional Hanukkah song, "Dreidel, dreidel."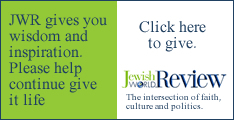 That's really about it. See? I told you Hanukkah wasn't Christmas. No feel-good songs like "Jingle Bells." No colorfully decorated trees. No plates of fudge or peanut butter cookies. No carolers strolling through the streets in great-looking Charles Dickens outfits. No heart-tugging family movies like "It's a Wonderful Life." No big fat guy in a long white beard and a red suit making toys with elves at the North Pole who will load his sleigh and fly through the air pulled by reindeer to deliver the stuff right to your house - by sliding down the chimney, no less. That is one fantastic story, you've got to admit. Kind of hard to compete with all of that.

And that is why Hanukkah has grown into something much bigger for American Jewish families in the last 70 years or so. Competition. Christmas competition. Traditionalists will grumble about it, of course. They'll say it is commercializing a holiday way out of proportion just to sell toys and make money. But isn't that what happened to Christmas, too?

Capitalism, after all, is the American way. And competition is the American way. And if the Christmas and Hanukkah season is a selling period that creates a boon for American business, then that is a very good thing. We want a strong economy, don't we?

The bottom line is, the American Holiday season is a good thing overall, as long as we never forget its roots. Whether it is Hanukkah or Christmas, it can be a time of positive values. It is a time to be with family. It is a time of giving. It is a time of playing. It is a time of reflection. A time to slow down and wish our neighbors good blessings. A time to visit with friends and relatives whom we haven't seen for a while. I like it. I really like this time of year. I just wish there was one really good Hanukkah movie. Is that asking too much?
Every weekday JewishWorldReview.com publishes what many in in the media and Washington consider "must-reading". Sign up for the daily JWR update. It's free. Just click here.

JWR contributor Greg Crosby, former creative head for Walt Disney publications, has written thousands of comics, hundreds of children's books, dozens of essays, and a letter to his congressman. A freelance writer in Southern California, you may contact him by clicking here.
© 2006, Greg Crosby