<!- end inthis -->
Jewish World Review Oct. 30, 2009 / 12 Mar-Cheshvan 5770

Midiris Knock 'Em Dead at Pismo

By Greg Crosby

http://www.JewishWorldReview.com | Hmmm. I guess the title of this piece says it all. And if you think I overstated the audience reaction to this talented group of musicians, you should have been there. I was at every single Midiri Bros. performance during the course of the 3 day Pismo Beach Jubilee by the Sea Jazz Festival this past week and let me tell you it was electric! Every one of their sets (seven in all) ended with standing ovations. Not cursory, polite little standing ovations, I'm talking about jumping up out of your seat, screaming, hooting, and whistling, standing ovations.


In case you haven't a clue who I'm talking about let me put you wise. Joe and Paul Midiri are two guys that just happen to be the most talented musical brothers to step onto a stage since the Dorseys. They play swing like they invented it. Joe plays clarinet and saxophones while Paul does duty on the Vibraphone, xylophone, trombone, and drums. Joe's influences are Artie Shaw and Benny Goodman, and Paul's are Red Norvo and Lionel Hampton. And the Midiris certainly does these four legends of jazz proud.


A couple of Jersey Boys, they make their way out west several times a year, usually for jazz festivals like Pismo Beach, the Monterey Jazz Festival, and the Sun Valley Swing-N-Dixie Jazz Jubilee. When I caught them in Pismo their sextet was filled out with long time Midiri drummer Jimmy Lawlor, trumpeter Danny Tobias, bassist Ed Wise, and guitarist Bob Leary. Each man a jazz pro individually, together they set the stage on fire.


I first wrote about Joe and Paul in my column last summer after listening to a couple of their albums. After I watched a snippet of them performing on YouTube I knew I had to see them with my own eyes live on stage, so last Friday morning I packed up my wife Jane, and off we went up the California coast.


Since neither of us had ever been to a Jazz festival before we didn't know what to expect. It was amazing. Venues all over town, huge tents set up to accommodate more than 400 people at each venue, plenty of food and drink and more happy music than you can imagine. It's kind of nice to be at a place where so many other people are gathering who happen to enjoy the same great music that you do. It's sad but there are not many places to hear good jazz anymore.


The Midiri sextet was worth the trip and more. In addition to his hot clarinet playing Joe does a mean impression of Louie Armstrong. Paul simply makes love to his vibes with a sensitivity that must be heard to believe. Drummer Jim Lawlor stepped out from behind the skins every now and then to scat a Louie Jordon tune like "Caldonia." Danny Tobias has a way with a trumpet that gives you goose bumps while bassist Ed Wise, in the words of my wife, "makes his bass talk." Bob Leary was a surprise - not only a wonderful guitarist, Bob sang a couple of fun novelty numbers like a great send up of the old Ink Spots song, "If I Didn't Care."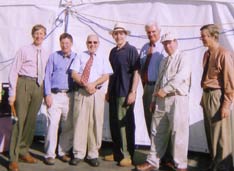 The author with with the Midiri Brothers Sextet.
From left to right Paul Midiri, Dan Tobias, Ed Wise,
Greg Crosby, Bob Leary, Jim Lawlor,
and Joe Midiri

Joe's renditions of the Shaw classics "Begin the Beguine," and "Airmail Special" were tremendous. He has developed a breath control that is truly awesome. I remember reading that Frank Sinatra learned breath control from watching Tommy Dorsey play, Joe has that same control. Paul played Joyce Kilmer's "Trees" with a beautiful delicacy and listening to him play the old hymn, "How Great Thou Art" was positively stirring.

What's really terrific to see throughout the sets, is the way Paul and Joe watch each other when the other is playing a solo. There is a genuine pride between the brothers that absolutely comes across. Yes, they kibitz and zing each other as part of the show, but they didn't fool me one little bit. The mutual respect and love between Joe and Paul is all right there on stage. It's as strong a love as is their love for music, and that's a lot. And it's something I can't wait to experience again.

I know the boys are kept busy on the East coast but I just wish the Midiri Brothers could get booked at some local LA jazz clubs like the Catalina Bar & Grill in Hollywood where John Pizzarelli has performed or Jack's Bar & Grill in Glendale where Jack Sheldon has performed. Their sextet would fit in beautifully at those spots and believe me; this town could use the talent.
Every weekday JewishWorldReview.com publishes what many in the media and Washington consider "must-reading". Sign up for the daily JWR update. It's free. Just click here.

JWR contributor Greg Crosby, former creative head for Walt Disney publications, has written thousands of comics, hundreds of children's books, dozens of essays, and a letter to his congressman. A freelance writer in Southern California, you may contact him by clicking here.
© 2008, Greg Crosby
Columnists
Toons
Lifestyles