Wither the PLO charter?
By Douglas M. Bloomfield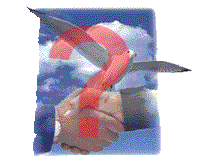 President Clinton invited Prime Minister Benjamin Netanyahu and Chairman Yasser Arafat to the White House last week to deal with Israel's demands for more intensive and consistent security cooperation from the Palestinians, and Palestinian insistence on immediate and extensive Israeli redeployment on the West Bank.
But those complex issues were lost in the static of each Mideast leader's lengthy list of accusations about the broken promises of the other. Instead of negotiating sessions, the summits were shaping up as high-level gripe sessions. Topping Netanyahu's 12-page catalogue of Palestinian failures is one that also heads a list of Palestinian commitments included in U.S. peace negotiator Dennis Ross' "note for the record" that sealed last year's Hebron redeployment agreement: "complete the process of revising the Palestinian National Charter."
The Covenant, in which critics say 30 of 33 provisions in one way or another call for the eradication of the Zionist state, is as much symbolic as substantive. Arafat contends the offensive passages were canceled by the Palestinian National Council in its April 24, 1996, meeting, and the American and Israeli governments agreed at that time. But Netanyahu and his supporters reject that.
Before leaving for Washington, Netanyahu declared that if Arafat could "electrify" the Israeli people if he would tear up the old Covenant because it "would send a message of peace that would capture every Israeli heart."
But his critics suggest that is not what Netanyahu is really looking for. They say the charter is an irrelevant relic superseded by the Oslo Accords and real-life developments, and that calls for its revision are a smoke screen to conceal the broader agenda of those who are looking for excuses to blame Arafat for the collapse of a peace process they dislike.
Not so, respond Netanyahu and his supporters. To them the Covenant provides a valid window on Arafat's true intentions, which they say are unchanged and dangerous.
Changing the Covenant was Arafat's first written promise to Prime Minister Yitzhak Rabin, in a now-famous September 9, 1993, letter that led to the Oslo Accords and the historic handshake four days later. The change was not to come in Rabin's lifetime, despite repeated urging.
When the PNC voted to cancel the offending articles it also set up a subcommittee to "redraft" the Covenant, but it has yet to publish a list of specific clauses that were nullified nor is it clear that the drafting panel has ever met much less prepared a new charter. In interviews afterwards, PNC members themselves could not agree on what they had done. Several declared nothing had changed, only fueling distrust of Arafat and demands for publication of a clean document.
Nonetheless, Shimon Peres, who was prime minister at the time, accepted the PNC action as fulfilling its obligations, leaving the United States with little choice but to agree. In fact, an Israeli official at the time said Peres aides worked with Arafat's aides on the language of the PNC repeal and approved it.
Netanyahu rejected Peres' view and immediately made demands for full charter revision a central theme in his successful campaign for prime minister. His spokesmen have said the PNC vote did not count because it failed to spell out the precise changes. However, neither Netanyahu nor the Rabin-Peres government ever specified the changes they wanted made; their message was simply, "Just fix it!"
Netanyahu got Amb. Ross to write the charter demand into the "note for the record," but no deadline was set. Before the ink was even dry, Arafat brushed it off. When an Israeli reporter asked about it, he flippantly dismissed the subject with, "When you will have your own constitution, we will draft for you directly our Covenant."
Critics say this is precisely why Arafat can't be trusted. If he refuses to change the Covenant, they ask, how can he be relied upon when it comes to more important commitments like security?
Oslo supporters say the charter isn't really that important, and revision could even be counter-productive.
"Charters are political statements of national aspirations, not working constitutions of governments," said an American official close to the negotiations. "If the charter were redrafted today, it would contain passages on the right of return, Jerusalem, borders and other items problematic in this environment. It would be more fantasy than reality."
Phil Baum, executive director of the American Jewish Congress, said demands to rewrite the Covenant at this time are "stupid" and "make no sense" because the result will be a "revolutionary" document.
"You don't want the PLO to write a new charter now because it would be more ideological and give maximalist positions for the final status talks," says Gail Pressburg of Americans for Peace Now. "It makes more sense to wait until afterwards when you're more likely to get a more realistic document."
An Israeli government spokesman responded, "If they write it now and it is a maximalist document, then we know what we face."
Rep. Benjamin Gilman (R-NY), chairman of the House International Relations committee, agrees with Netanyahu that Arafat has not kept his commitment, and that is one reason he gives for consistently blocking American aid to the Palestinian Authority. He also has boycotted Congressional meetings with Arafat.
Gilman and other Oslo critics say demanding a new charter now is the best way to learn Arafat's true intentions and whether he really accepts Israel's legitimacy or still seeks its ultimate destruction.
Are the calls to "finish the job" and publish a new Palestinian Covenant intentional spoilers and necessary truth tellers? Or is this a question best left unanswered at this time?
"Arafat needs to do something to rescue his credibility on Capitol Hill," said an influential Congressional staffer. "I think that the people who believe the PLO has not completed amending the Charter would be satisfied if it adopted a document that specifically said articles such and such are repealed.
"Folks here on the Hill look at this as legislators, and they want to know what language it takes to erase something; therefore, what they understand is the amendment process. After all, that's what they do every day."
The staffer suggested a compromise that should be easy for both Netanyahu and Arafat to accept, if what they are looking for is compromise and not just more confrontation:
"If the PLO is not going to issue a new charter -- and I can understand why that may be preferable -- then it should at least adopt a document which specifies the articles inimical to Zionism and Israel are no longer operative or hereby erased."


---
Douglas M. Bloomfield is JWR's Washington correspondent.
© 1998, Douglas Bloomfield