Chosen Words
A newsletter for personal and spiritual growth gleaned from classic biblical and other sources that will help you enhance your day to day life. Likely the most constructive three minutes you will spend today

Personal Growth

DEFICICIENCIES THAT
MAKE ONE WHOLE

Wouldn't it be better if we were all self-sufficient? Clearly, G-d could easily have endowed each of His creations with the full measure of intellect, strength, health, ability ...everything from a way with words to an unfailing sense of direction.
However, as is obvious, He didn't. Not only do we perceive instantly that He did not build us "fully loaded," but Judaism has us even thanking Him for our deficiencies, each and every time we finish eating certain foods.
The concluding blessing known as "Borei nafoshos," has within it this seemingly unusual concept. "Blessed are You Hashem, our G-d, King of the universe, Who creates numerous living things with their deficiencies... ."
To understand why we thank G-d for a poor command of math, a bad sense of direction, hay fever, forgetfulness and millions — possibly billions — of other human flaws, consider the world without these deficiencies.
Each person would be a self-contained island, with no real need to connect with others.
Nobody would be motivated to reach out to anyone else, and nobody would have anything significant to offer.
The late sage, the Chofetz Chaim, ZT"L, sees in this blessing evidence that G-d built the world upon the quality of chessed, kindness. Kindness is activated by the needs of others.
Our strengths fill in other people's gaps, and the strengths of others supply what we're lacking. The doctor needs the grocer; the grocer needs the farmer, who in turn needs the doctor. The end of our blessing is "l'hachayois bo'hem nefesh kol choi," "to give life through them to all living things." It is these very creatures, complete with their deficiencies, that create chessed — the foundation of life in this world.

Better Relationships

THE GREATEST

In our culture of self-promotion, few qualities sound as quaint as "humility." But it was just this quality that the sage, Ramban, in his letter (Iggeres Haramban) to his son, stressed as the "finest of all admirable traits" and the key to serving G-d.
To acquire this trait, "Let all men seem greater to you in your eyes," he advised.
Rabbi Yosef Weiss of Lakewood, New Jersey, once asked Rabbi Yehudah Zev Segal, zt'l., the late dean of the Manchester (England) Yeshiva, how it is possible to follow this directive. One need only look around at the population of the world to realize the difficulty in feeling inferior to everyone. The answer, said Rabbi Segal, is to understand that every person is superior in some way. Even the "lowest of the low" has some quality in which he surpasses you. Even the career criminal has some trait — perhaps it's die-hard loyalty to his gang, or courage in the face of danger — that others could benefit from emulating.
By recognizing that everyone is our superior in some way, we can nurture the quality of humility within ourselves.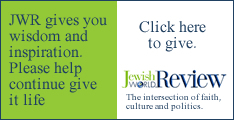 Life's Lessons

SMALL MATTERS

One afternoon as the sun was setting over Jerusalem, two distinguished residents of the city were out walking. In the distance, they observed a man leaning on a lamppost with both hands.
Concerned that he was ill, they rushed toward him. Only then did they recognize him as the renowned scholar, Rabbi Shlomo Zalman Auerbach, zt"l, who was in the process of hanging a notice on the lamppost.
"Maybe you didn't hear the tragic news," he explained to them. "But Reb Boruch Rothschild, who lived here a number of years ago, passed away today." With the funeral imminent (burials take place even at night in Jerusalem), Rav Shlomo Zalman, one of his generation's great leaders, took it upon himself to go about the neighborhood posting notices, lest the news remain unpublicized.
While many people consider themselves too busy to take care of small matters, to the truly great, nothing is insignificant.
— Adapted from "Along Maggid's Journey," by Rabbi Paysach J. Krohn with permission from Mesorah Publications

Inner Excellence

AS IF

"I'm just not a 'kid' person. I don't have the patience," the man explained. It was his rationale for his tense relationship with his children. "I'm not outgoing," said the woman.
This bit of self-analysis was her justification for pretending not to see most neighbors she encountered on the street.
Although G-d made many different types of people, each with a unique set of strengths and weaknesses, He made only one Torah (Bible) that binds us all. The self-centered person isn't exempt from the need to show kindness.
The stingy person isn't exempt from giving charity. The reserved person doesn't have special license to ignore others, nor the impatient person to snap at those who irritate him.
"Going against the grain" seems impossible, but the Torah teaches that it is not.
Rabbi Moshe Chaim Luzzato, in his famous ethical work "Path of the Just," advises those who are reluctant to perform an act of kindness to just pretend. Act as if you're enthusiastic, he says, and you will find your inner self responding likewise.
The same strategy is true when any character trait called for in a certain situation is in short supply within you. Act confident, and you give yourself confidence.
Act compassionate, and you find yourself slipping into the role you've created. Using the "as if" approach opens a person up to experiences beyond the boundaries of his nature. And these experiences, ultimately, remold that nature. By acting "as if," you can create a new grain, a new self, capable of grasping every opportunity for growth with enthusiasm and joy.
— Adapted from "Begin Again Now," by Rabbi Zelig Pliskin, with permission of the author
Every weekday JewishWorldReview.com publishes uplifting articles. Sign up for the daily JWR update. It's free. Just click here.
Chosen Words, a newsletter of spiritual and personal growth, is produced by the Chofetz Chaim Heritage Foundation. Comment by clicking here.
© 2006, Chofetz Chaim Heritage Foundation