Jewish World Review Nov. 23, 1998 / 4 Kislev, 5759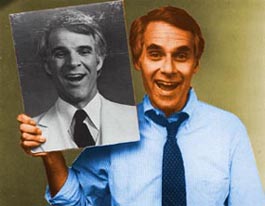 The
wedding announcement

By Rabbi Bob Alper
IN A TRIBUTE to her late mother, a daughter described her intellect: "She would complete the Sunday New York Times crossword puzzle in under 15 minutes --- and she would do it in ink!"
For millions, that crossword puzzle is the measure of genius. Not for me. The biggest challenge to my inferential abilities are wedding announcements: several paragraphs of of delicious mystery, each waiting to be decoded, each hinting at, but often not proclaiming, the truth.
"Following a career in finance, the bride's father is retired and now lives in Pennsylvania." This could mean daddy invested his golden parachute in rolling acreage in trendy Bucks County. Or, he may have been indicted, convicted and sentenced to a few years in Allenwood, Pa., Correctional Facility.
Unlikely to make it into the Times

"The groom works in the international foodservice industry" may refer to the fact that he's a CEO of a corporation supplying in-flight meals to 20 foreign airlines. Or, perhaps, he makes deliveries for an Italian pizzeria.

It's fun to speculate.

Every week, the "Sunday Styles" section of the Times contains wedding announcements of the nation's overachievers. I really don't know why I find them so fascinating. Maybe it's because it gives me a chance to pry a bit into others' lives; or perhaps it's because it's an opportunity to see what my New York area colleagues do with their weekends, and which rabbis are hobbing and nobbing with the rich and famous.

Those families are all so perfect, you know.

"The bride, a graduate of Sarah Lawrence, earned her doctorate in clinical psychology from Columbia and is now a senior producer for the Oprah Winfrey Show. Her father, is Chairman of the Board of Puissance Industries and her mother is the prominent Manhattan art connoisseur.

"After graduating from Williams College with highest honors, the groom earned his MBA and LLD from Harvard, where he is now a tenured professor of business law. His father is a retired vascular surgeon and his mother is superintendent of the Dorset, Conn., school system."

Spare me!

Once... just once ... couldn't they print a more complete family history? Couldn't they, for example, add a line or two to the bride's bio, proclaiming: "Myndi, has one sibling, a sister, who spent 11 years selling leather orthopedic sandals made from free range cows outside Grateful Dead concerts."

Frankly, I like the unpretentious folks best. I saw this in my local Vermont paper: "The bride attended Shaw Memorial High School and graduated from Putt-Putt Managers' School in Columbus, Ohio, with a degree in Putt Putt management."
---
JWR contributor Bob Alper, the world's only practicing clergyman doing stand-up comedy . . . intentionally, is the author of Life Doesn't Get Any Better Than This : The Holiness of Little Daily Dramas and A rabbi confesses. To go to his web site, click here.


11/10/98:What the mail-man brought
©1998, Bob Alper