Think about direction, wonder why …
By Jim Mullen





http://www.JewishWorldReview.com | Sue tells people that I am directionally challenged. She tells the story of the time I got lost between the kitchen and the bathroom, which is a lie. It was between the kitchen and the bedroom. This year, she gave me a GPS device for Christmas. While it still can't get me from the kitchen to the bedroom, it works fine when I'm driving a car.

I know most people have had these things for years, but it was only this past summer that I saw one in action, and it floored me. You type in where you want to go and the machine tells you exactly what turns to take.

I will save so much money on gasoline! I wonder how much gas I have wasted over the years taking the wrong exits, going miles in the wrong direction.

At a party the other day, a guy told me that he and his wife would have their biggest fights in rental cars while trying to get out of the airport parking lot.

"The GPS changed our lives. It tells us exactly what turns to make to get to our hotel. It's especially handy in a strange city in the middle of the night. I couldn't live without it anymore."

"In 500 yards, turn left onto the highway," it says. I used to turn right at this particular intersection, but I told it I wanted the fastest route, so it is taking me the new, shorter way. If I wanted to, I could change the gadget's voice from a man to a woman or, for a little extra scratch, I could even download a celebrity voice to tell me where I'm going. Homer Simpson, David Hasselhoff or Mr. T. all politely telling me where to turn! I'd probably be more comfortable with Chuck Yeager or maybe Richard Petty telling me where to go.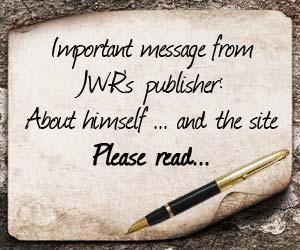 If you miss a turn, the voice tells you how to turn around. If you insist on going in the wrong direction, it will map out a new route for you. My brother-in-law Dave missed a turn this summer, and the Australian accented voice said, "Bugger, bugger, bugger! Take the next right turn."

It has also made me a safer driver. I'm not distracted by looking at road signs or highway exit signs. I just drive and do what it tells me. What could be simpler? It says, "Turn right, you're at your destination."

"No, I'm not. Where am I? Nothing looks familiar at all. There's a drugstore where Bob's house should be. And I'm positive there wasn't a Salvation Army on his block. An extremely thin woman in a tube top and mini skirt knocks on my car window and asks me what's my pleasure. What is going on here?"

I take the GPS device and start shaking it. No, it's working. Oh, I see. It seems I have selected West 8th Street instead of West 108th Street. Stupid machine. This is not where I wanted to go.

I select the correct address and it tells me that my destination is 22 minutes away. In 300 yards, take a right.
Every weekday JewishWorldReview.com publishes what many in the media and Washington consider "must-reading". Sign up for the daily JWR update. It's free. Just click here.
Comment by clicking here.
Jim Mullen is the author of "It Takes a Village Idiot: Complicating the Simple Life" and "Baby's First Tattoo."
Previously:

Flushing your money down a diamond-studded toilet
More like 'wack' Friday
The good, the ad and the ugly
The desert of the real
Let books be large and in charge
I was insulting people way before the Internet
GPS drill sergeant: Left, right, left!
Butterfly in the sky, you make winds go twice as high
Music to my ears it's not
You don't light up my life
Fair or not: Country living is far from 'Little House'
A parable for the 'ages'
Top 100 Cable news stories of the century
Green dumb
A developing story
Thinking outside the lunch box
What's good for the goose is good for the scanner
Newspapers will survive, but network TV?
A really big show of generation gaps
When pigs flu
The reports of our decline have been greatly exaggerated
Mergers and admonitions
Invest in gold: little, yellow, different
Stuck in Folsom Penthouse
Collecting karma
Setting loose the creative 'juice'
It's all in the numbers
You're damaging your brain with practical skills
The real rat pack
The unspeakable luxury of the Park-O-Matic
Gross-ery shopping

© 2009, NEA