Jewish World Review Dec. 15, 2003 / 20 Kislev, 5764
Saddam's JFK Moment
By Steven Plaut

Think all "enlightened" people were cheering when Saddam was captured? Think again
http://www.jewishworldreview.com | You know how it is a platitude that everyone remembers where they were when they heard JFK was shot? In my case, I actually do recall it quite clearly.

I suspect the capture of Saddam will not be as memorable and as historically marked in people's minds as the JFK assassination. But nevertheless, I thought I would share my own experience of where and when I heard the glad tidings about Saddam's capture.

I had taken a break from some office work at Haifa University shortly after noon local time and I went down to the Arab student cafeteria. No, that is not what it is officially called, just what I call it.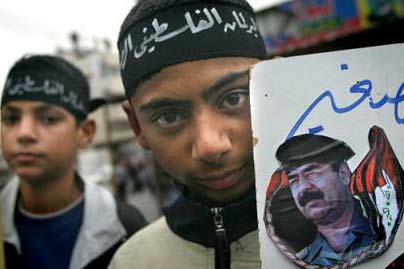 Member of Palestinian Mini Parliament, a division of Arafat 's Fatah movement, holds picture of Saddam during a demonstration in his support after learning of capture

Haifa U has the largest contingent of Arab students in Israel. While they are not a homogeneous bunch, the bulk are ferociously anti-Israel and pro-PLO and pro-terror. There is one cafeteria where they tend to congregate in large numbers, and this cafeteria has a better than average shwarma stand.


The fellow who sells shwarma is himself an Arab who is not pro-Saddam. I know because I once brought him an Internet photo of Saddam cutting shwarma off a churning roaster with the caption "We have discovered where Saddam is."


He thought it was hilarious and he hung it up, telling me that most of the Arabs who come there to eat are Saddam supporters and would be angered by the photo.


I was waiting in line for the shwarma-in-pita, when I started listening to the TV set in the cafeteria. It was the announcement by the US governor in Iraq that they had caught Saddam.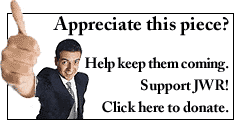 The Arab students in the cafeteria were thrown into deep remorse and anger and then shock. Their faces mirrored sorrow.

I ordered extra Amba sauce to celebrate.

The sorrow of the Arab students at seeing their hero captured should not be restricted to Haifa University. You might want to send condolence cards to the anti-war protesters and professors in your town, telling them how sorry you are that the guy who best represents their values and dreams is behind bars.

And Saddam? In the first photos, he looked ever so much like one of those homeless men south of Market Street in the Mission District of San Francisco who eat out of garbage bins. The tyrant of Iraq reduced to dressing like a derelict, hiding in the mud, pouring dirt on himself to try to escape capture. Could there be a better image to deter the Islamofascist leaders of the Arab world? To throw the fear of death into them?

As for Israel, could there be any better lesson in how to handle Yassir Arafat — the tyrant and fascist leader who would also make a wonderful poster boy for homelessness and dereliction?
Every weekday JewishWorldReview.com publishes what many in the media and in Washington consider must-reading. Sign up for the daily JWR update. It's free. Just click here.
Steven E. Plaut, PhD, is professor of business administration at the Graduate School of Business, University of Haifa, He also teaches in Greece, California, and Hungary, and has a Ph.D. from Princeton University in Economics. A Native-born Philadelphian, he has lived in Israel since 1981. Comment by clicking here.
© 2003, Steven E. Plaut