Jewish World Review Dec. 17, 2003 / 22 Kislev, 5764

With donors like this who needs creditors?
To:
editor@jewishworldreview.com
From:
Dr. Lawrence Rosler
Menlo Park, CA
Date:
12/16/2003
Subject:
Donation of $1.00

Dedication / Message: This is 1/18 of what my normal donation to a Jewish organization would be. It represents the 1 article in 18 that you publish or link to that is anything other than Orthodox Republicanism or Judaism. Actually, I am being generous, because I don't think there are ANY such articles. Even Fox News claims to be "fair and balanced." You certainly are neither of those.

The waving of a dollar — in this case, electronically — is something one might expect of a restaurant customer disappointed with his service. The fact this fellow, who implies that he is Jewish, has a problem with JEWISH World Review publishing too many articles that deal with ... JUDAISM makes you kinda wonder, no?

After reading a surly note, albeit rather clever, my initial response was to reply angrily, as I work especially hard to offer JWR readers writers and columnists with varied viewpoints; in many cases, viewpoints that I disagree with.

In many cases, viewpoints you disagree with, as you've always made me aware of.

But, as I've been taught, from wise Jews — wise Christians — even wise agnostics, some gifts come packaged in the most unpleasant wrapping.

So I politely asked the letter writer if I might publish his note.

He graciously consented.

Now, I don't know what you're reaction will be, but here's a thought: Maybe Dr. Single Dollar is actually on to something.

Maybe I should ask everybody who hates JWR to please send us a buck.

If you really hate us, you'll send two.

If you actually like hearing all sides of the debate, you might even consider sending three.

Seriously, folks: If every subscriber would donate a dollar or two a month — mere pennies a day — not only would this webzine's financial situation be reversed, our quality would improve exponentially.

I have NO intention of making this newsletter a paid publication, of course. But if you'd like to donate something today, I'd be grateful. And if you'd like, you can even taunt me a bit. I promise not to print your note.

It's the least I could do.

For those who value JWR and would like to automatically donate every month, I will be in touch with the powers that be in order to make that arrangement.

Thanks much for allowing me AND my friendly note writer to vent!

Binyamin L. Jolkovsky,
Editor in Chief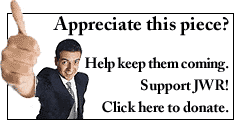 If you'd like to donate conventionally, PLEASE click here. I'll send you the needed info.
Comment by clicking here.