http://www.NewsAndOpinion.com | Oh drat, you're thinking. Old uncle Filbert — rich old uncle Flibert, no less — — isn't dead after all; his Web page merely looks atrocious. Now, you've got to find a last— minute gift to bring him — or to Express Mail if the timing is right.
Some suggestions:
CD and DVD Recordable Media — These are today's floppies (what's that? Well, let's see...) and a "spindle" or two are always welcome by those burning music CDs or backing up photo collections. The blank DVD discs are more expensive than blank CDs, and you need to be sure that Uncle Filbert's DVD— writer format matches the discs you buy or else he gets to stand in line at the return desk.
On the CD side, it's much easier, and much cheaper. A great stocking stuffer — or stretcher — if you will.
CD Labeling Software — Again, something touted here before, but perhaps now even more important: if blank CDs are as cheap as they are, burning a bunch is easier and then...you need to know what you've created. I like Avery's "AfterBurner" product, which includes a starter set of labels, software and an applicator, but there are others, including the CD Stomper system, which are sold in many stores.
Utility Software: I've mentioned this before, I'm sure, but the advent of a new year is also a good time to make sure Unc's computer is protected from viruses and other nasties. My preferred brand is the Norton series from Symantec, but Trend Micro and McAffee are two other useful brands. Deals abound at office supply stores and the like. Mac users are likely to find the Norton offerings most helpful, especially since these have just been updated for Mac OS X 10.3, also known as "Panther."
A Portable Stand: Mention was made here in June of Laptop Desk v.2.0, from LapWorks of Rancho Cucamonga, Calif., a postable platform that protects your lap from a portable computer's heat and lets air circulate under the computer as well. Folded, it becomes an angled stand for desktop use (and better viewing) of a laptop, even more so when connected to an external keyboard and mouse. The price is $29.95, and a swivel base is another $19.95. It's one of the best products I've seen in a long time, and the firm's commitment to customer service is remarkable. Details are at http://www.lapworksinc.com/.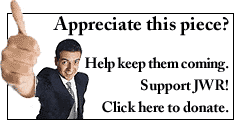 These all are gifts available for well under $50 in most cases, perhaps even under $20, though utility software bundles run in the $60 to $70 range. Moving a bit further up the food chain, however, you can venture into some higher priced ranges.
Miniature USB drives, which work with Windows, Macintosh and Linux systems that have USB ports and software (or just about everything made in the past three years), are a great way to carry files around, literally: I saw a coworker the other day wearing two of the drives on a lanyard suspended from his neck. Sizes range from 16 MB to 128 MB and beyond. It's a great way to move data in large— ish quantities.
An external hard drive, particularly with either a USB or a FireWire (IEEE 1394) connection, is also desirable, since you can shuttle drives between several computers. The FireWire drives, particularly the new FireWire 800 standard ones, are super— fast in data transfer, but these require, of course, computer connections that are compatible. Pricing ranges but expect a good drive to start at around $200 or so. (I noticed an external drive at Costco recently, so the merchandise is getting around.)
Also in the $200 and up range is an un— sexy tech gift, but perhaps a necessary one: an uninterruptible power supply, or UPS. These, properly charged and installed, will keep Uncle Filbert's PC going for a few minutes after a power hiccup, enough time to save the word processing document he was working on, perhaps a codicil leaving you the bulk of his estate.
Find this column useful? Why not sign-up for the daily JWR update. It's free. Just click here.
JWR contributor Mark Kellner has reported on technology for industry newspapers and magazines since 1983, and has been the computer columnist for The Washington Times since 1991.Comment by clicking here.