Jewish World Review Dec. 16, 2003 / 21 Kislev, 5764

Lou Dobbs
Trade deficit with China a big problem
http://www.jewishworldreview.com | Chinese Prime Minister Wen Jiabao concluded his first visit to the United States this week, calling his whirlwind three days here both pleasant and very successful. President Bush gave Premier Wen a warm White House welcome, including a 19-gun salute. Bush also offered a plea to Premier Wen to reverse the huge trade deficit with China, which is quickly becoming a political vulnerability in the president's upcoming bid for re-election.

In addition, Bush gave the world new rhetoric to describe U.S. relations with China. The president, who once described China as a strategic competitor, this week declared that China is our "partner in diplomacy."

In an almost immediate confirmation of that partnership, Bush emerged from his discussions with Wen to warn Taiwan President Chen Shui-bian not to hold a referendum condemning China's buildup of ballistic missiles across the Strait of Taiwan.

I talked with Premier Wen in Boston at the conclusion of his visit, and in his only interview with an American journalist, the premier told me, "We appreciate the reaffirmation by President Bush of his one-China policy, and for his sending a clear signal to Taiwan security forces. We have to admit . in our economic and trade relationship, problems do exist."

Problems, indeed. Not only is our trade deficit with China likely to top the year at $130 billion, but thousands upon thousands of high-value American jobs have been lost to Chinese imports and competitors. And China has again rebuffed the United States' call to abandon the peg of the Chinese yuan to the dollar. Additionally, the United States has just slapped quotas on some Chinese textiles.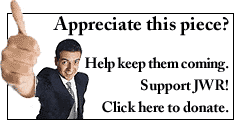 Wen insisted to me that the rapid expansion of trade has benefited both countries. As you might expect, he suggests the solution is not to cut Chinese imports, but rather to increase U.S. exports to China.

Wen outlined five proposals to Bush, including better communication on bilateral commerce and trade.

"We (should) seek mutual benefits and win-win results," Wen told me. "We should look at the larger picture and larger interests of our trade for each country."

Chinese officials rather ambitiously estimate that they will import up to $1 trillion of U.S. merchandise in the coming three years.

Unfortunately, trade inequities with the Chinese are only a fraction of the trade issues facing the United States. And the biggest U.S. trade deficit increase over the past five years has been with the European Union, not with China.

Trade analysts say that China, members of the EU and several other countries are merely doing what any country would do given the opportunity. They say the lack of strong U.S. trade policy is the problem.

"Since the Industrial Revolution, most countries follow policies geared to benefiting their domestic industries, either by boosting their exports or their competitiveness or by putting obstacles in the path of imports from rivals," says William Hawkins, senior fellow at the U.S. Business and Industry Council Education Foundation.

But rather than strictly enforcing our trade revenue laws, we are accepting goods on a largely unrestricted basis from cheaper foreign markets. Multinational companies are continuing to open operations in low-wage China instead of in this country. In fact, China surpassed the United States as the most popular destination for foreign direct investment last year. And 10 of China's top 40 exporters are U.S.-based companies such as Motorola.

"We've essentially given our trade policy over to transnational corporations who do not have an interest in the United States or interest in any particular country," Hawkins says. "Because of that, we don't have any part of our government - any agency, any committee - that thinks seriously about the future of our economy or its competitiveness."

The Chinese are obviously thinking seriously about the future of their economy. Once again, the United States is running a serious deficit.
Every weekday JewishWorldReview.com publishes what many in Washington and in the media consider "must reading." Sign up for the daily JWR update. It's free. Just click here.


Lou Dobbs is the anchor and managing editor of CNN's "Lou Dobbs Moneyline." Comment by clicking here.
12/09/03: Let our children be children
12/01/03: Broken borders pose a serious health risk
11/25/03: Free trade costs plenty
11/18/03: European Union is playing a dangerous game
11/10/03: This time, it's not the economy
11/04/03: Overseas outsourcing is an alarming trend
10/28/03: Spending so much time 'making a living', we don't live
10/21/03: As population soars, U.S. faces tough choices
10/14/03: Schools need to re-emphasize math and science
10/07/03: It's lonely at the top
09/30/03: Is America over-medicating?
09/23/03: Corporate execs need to stop selling out U.S. workers
09/16/03: The scandals just keep on coming
09/09/03: Let's get real on energy
09/02/03: Is free enterprise the answer to education woes?
08/26/03: Building the road to recovery
08/12/03: War on drugs is still a war worth fighting
08/06/03: An attack on progressive thought
07/29/03: Prosperity begins at home
07/22/03: Real earnings, or really creative earnings?
07/15/03: Flirting with disaster
07/08/03: It's good to be the king
07/01/03: Border disorder
06/24/03: Prairie dogs and mosquito bogs
06/17/03: Bullish on America
06/10/03: Retirement realities: we need new solutions — soon
06/03/03: Curing what ails us
05/27/03: America's export problem
05/21/03: Wall Street's new imperative: Integrity
/13/03: Losing sight of the dangers in creating further fiscal stimulus
05/06/03: Optimism is unfashionable, but here's some anyway
04/29/03: Nuclear nightmare
04/22/03: Naysayers ignore signs of economic recovery
04/15/03: Game over--but for whom?
04/08/03: No more fool's games
03/31/03: United States must seriously review foreign economic and political relationships
03/24/03: Delusional Chirac may be a thorn in coalition's side, but new alliances are forming in response to 21st-Century threats without him and UN
03/18/03: Bush critics offer little more than hyperbole
03/11/03: Geopolitical visibility
03/04/03: Freedom: Our best export
02/27/03: Guns, butter and greasing the way
02/18/03: Looking for a silver lining
02/10/03: Space program remains a valuable investment
02/04/03: Hi pal, come back
01/28/03: Bush address a chance to bolster confidence
01/22/03: Here we go again!
01/14/03: Bush's bold bid
01/07/03: The only thing certain is uncertainty
12/30/02: No need to be so negative as new year approaches
12/23/02: NY's AG deserves credit for settlement
12/18/02: Critics of Bush nominees should tone down rhetoric
12/09/02: A lot rides on prez's Treasury pick
12/04/02: A fast fix for corporate credibility?
11/26/02: Urge to merge is hard to resist
11/19/02: Are we really so bad off?
11/12/02: Bush's lucky week bodes well for recovery
11/05/02: Wall Street firms treat investors as fools
10/29/02: Earnings estimates offer some hope
10/22/02: Economy's strength tied to national security
10/17/02: Harvey Pitt, get real!
10/08/02:Are we experiencing the fall before the rise?
10/01/02: Concerns about earnings are justified
09/24/02: Business leaders must abandon stall tactics
09/17/02: Wall Street's reality check
09/12/02: There's no better time for leaders to show resolve

© 2003, TMS