Jewish World Review Dec. 3, 2003 / 8 Kislev, 5764
Atomic reaction
By Zev Chafets
Once before, Israel sounded the alarm about nuclear proliferation in the Mideast and was ignored. When they acted to stop it, they were condemned — but were, ultimately, proven correct. Is history about to repeat itself?
http://www.jewishworldreview.com | Recently, supporters of Israel were outraged to learn that according to a poll conducted by the European Commission, 59% of Europeans regard the Jewish state as the single greatest threat to world peace.

This statistic has been loudly denounced as yet another example — as if more were needed — of Europe's chronic anti-Semitism.

And yet the Europeans aren't necessarily wrong about the threat to their security. In fact, nothing imperils world peace, such as it is, more than Israel's disinclination to be the target of Iranian nuclear weapons.

In the past few weeks, Israeli officials have made a series of declarations that they won't permit Iran to get its hands on atomic weapons. These statements should be taken with extreme seriousness, because they echo similar warnings on the eve of Israel's decisive 1981 air strike on an Iraqi nuclear reactor.

This attack — although not Saddam Hussein's virtually unopposed effort to get his hands on nukes — was denounced by the entire world. But the following day, an unrepentant Menachem Begin held a press conference in Jerusalem. The Israeli prime minister announced that Israel would not sit back idly while its enemies developed tools of extermination. Although he didn't use the term, he was essentially promulgating a policy of regional preemption.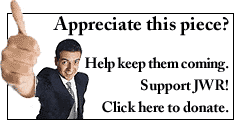 Not all Israelis agreed with this policy. Indeed, many senior Israeli leaders had opposed the attack itself. Some generals thought it was operationally impossible. Diplomats were concerned that it would inspire a horrific international response.

Begin listened to the naysayers, weighed his own understanding of the responsibilities, post-Auschwitz, of an Israeli prime minister and went ahead. He wouldn't have done it without the strong support of his minister of defense, Ariel Sharon.

Fast-forward 22 years. Sharon, now prime minister himself, again faces the prospect of nuclear weapons in the hands of a radical Islamic enemy, Iran. And suddenly the Begin Doctrine — dormant for a generation - is back on full display.

On Nov. 17, Meir Dagan, head of the Mossad, Israel's CIA, met with the Knesset's Foreign Affairs and Security Committee. Reportedly, it was the first time in 18 years a Mossad chief has done so.

Committee proceedings are supposed to be secret, but they always leak, and Dagan's testimony was no exception. He warned lawmakers that Iran is on the verge of obtaining nuclear weapons, a prospect Israel cannot accept.

"Such weapons pose, for the first time, an existential threat to Israel," Dagan told the committee, according to an Israeli newspaper report.

Dagan is extremely close to Prime Minister Sharon. He wouldn't have said such a thing - or even met with the Knesset panel — without authorization from the prime minister.
A few days before this meeting, Israeli Defense Minister Shaul Mofaz appeared before a think tank in Washington and delivered a similar message. He said that he believes the Iranians are no more than a year from "the point of no return."

Last week, Sharon himself carried the warning to the European Union. He told his friend Silvio Berlusconi, Italy's prime minister and the current president of the EU, that Iran's nuclear program poses a dire threat not only to Israel, but Europe and the rest of the world.

Why all these statements now? After all, Israel has suspected for years that Iran wants nukes — and what it wants them for. In December 2001, for example, Ayatollah Hashemi Rafsanjani, Iran's second in command, publicly bragged about the efficacy of a doomsday weapon. "The application of an atomic bomb would not leave anything in Israel, but the same thing would just produce damages in the Muslim world," he told a Jerusalem Day crowd in Tehran.

Israel's threats are obviously an attempt to influence current debate at the International Atomic Energy Agency, which recently conceded that Iran has been concealing the nature and extent of its nuclear program for the past 18 years.

Iran says it is only interested in atoms for peace, but no one believes this. The Iranians already have vast amounts of energy. And Tehran has been caught with equipment containing weapons-grade enriched uranium. The only question is, what to do about it.

The United States wants the atomic energy agency to take strong measures, including the possibility of sanctions. Not surprisingly, the Europeans want a much softer approach. One of America's talking points is that the agency had better move before Israel takes matters into its own hands.

Israel is on board with the American diplomatic strategy, for now. But it would be a mistake to dismiss the revival of the Begin Doctrine as merely a ploy. Israeli concerns are, if anything, more acute today than they were in 1981. In the first Gulf War, Israeli cities were hit by Iraqi Scuds, an experience that powerfully concentrated the Israeli mind. Iranian missiles have the range to hit the same targets. Even more frightening, Tehran could hand off nukes to its Hezbollah proxy.

Both possibilities are, from Israel's point of view, life-threatening.

There's no doubt Jerusalem would prefer to have this danger removed by the international community. But if the world ignores its responsibility, Israel won't simply shrug and hope for the best. It will very likely act on its own - this time, perhaps, with tacit American approval.

One hopes the Begin Doctrine will work as well as it did in 1981. If not and things get messy, well, at least 59% of Europeans won't be surprised.
Every weekday JewishWorldReview.com publishes what many in Washington and in the media consider "must reading." Sign up for the daily JWR update. It's free. Just click here.


JWR contributor Zev Chafets is a columnist for The New York Daily News. Comment by clicking here.
© 2003, NY Daily News