Jewish World Review Nov. 14, 2003 / 19 Mar-Cheshvan, 5764
Exhibiting courage
By Victor J. Wishna
http://www.jewishworldreview.com | Before this year, I had never thought of Veterans Day as a Jewish holiday.

I have a black-and-white photo of my grandfather and his brother Morrie in their World War II army uniforms, and I have heard stories of other family members who were there: My Aunt Emma was a battlefield nurse in Europe. My other Uncle Morris was one of the first occupation troops into Japan. A family friend who I also called "Uncle," Aaron Liepe, used to awe me with his tales of shooting down Japanese Zeroes over China as one of the Flying Tigers. I was proud of all of them. I thought they were exceptional. But I thought they were exceptions.

Not so.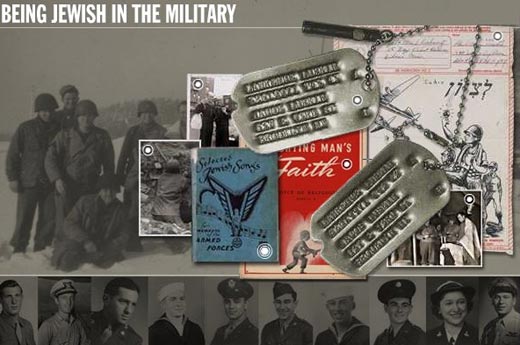 From the exhibit "Ours to Fight For: American Jews in the Second World War"




During the World War II, some 550,000 Jews served in the U.S. Armed Forces. That's more than three times the number of soldiers in Israel's current standing army. That was 11 percent of the total U.S. Jewish population at the time. Half of all Jewish men ages 18 to 44 were in uniform. And they were among the most heroic — more than 52,000 American Jewish servicemen were decorated for gallantry. At least 40,000 were wounded. Some 11,000 lost their lives.


All of this, and much more, I am to learn on Veterans Day, at the opening of a new exhibition at the Museum of Jewish Heritage in Battery Park City. Ours to Fight For: American Jews in the Second World War is an unprecedented collection of video testimony, archival footage, photographs, and 450 letters and other artifacts that tells the story of the Jewish men and women who served from Europe to the South Pacific.


As with any worthy New York opening, there are plenty of cameras and plenty of stars — a three-star general here, a three-star admiral there, a Marine Corps colonel or two. Each takes the podium to thank the dozens of Jewish veterans who sit before them, and to tell a story of past Jewish comrades. Lieutenant General William J. Lennox, Jr., commandant of the U.S. Military Academy, invokes the spirit of Colonel David "Mickey" Marcus, a 1924 West Point graduate who served on Patton's general staff and later went to Israel, "where he became the first general of a Jewish army in more than 2,000 years."



ONLINE EXHIBIT
Can't visit the exhibit in person? Click here.to visit online. You will find audio, video, pictures, a teacher's guide and more
Even anchor/author Tom Brokaw, whose best-selling volume, "The Greatest Generation" made it kosher for World War II vets to share their stories, is on hand to say a few words, including a couple in Hebrew. "One of the veterans described his experience in World War II as the essence of the Jewish tradition of doing mitzvahs, of doing good deeds for someone else, for taking care of each other," he tells his audience. "To me, that is the essence of what we celebrate here today…the idea of doing mitzvahs, whatever your faith."


Robert Morgenthau, the Manhattan District Attorney and the museum's chairman, envisioned this exhibit more than four years ago, and Tuesday it inaugurated the building's new Robert M. Morgenthau Wing. Beyond the standard historical fare — old uniforms, photos, newspaper headlines — there are some stirring glimpses of American Jews at war.


There is a film clip of the first Jewish services held at Dachau, conducted by U.S. Army chaplans, and a photo of soldiers observing Kol Nidre at a base camp in Luxembourg, the night before an offensive. There is the bullet-riddled helmet that Major General Maurice Rose was wearing when he was fatally wounded in Germany on March 30, 1945, one of the three stars dislodged by the round that killed him. Rose was the war's highest-ranking and most decorated Jewish military leader, and one of only two European division commanders to be killed in combat — known as "The Spearhead," he always lead from the front.


"It's important for young Jews, for everyone, to see this," Morgenthau tells me as we stand at the center of the 6,500 square-foot exhibition hall. "A lot of people thought, what were the Jews doing? Well, the Jews were out there fighting." His father, Henry, was still Treasury Secretary under FDR when Morgenthau joined the Navy in 1941. Several of the artifacts on display are his — maps of Okinawa that he kept on his destroyer, War Bonds posters, letters home to his parents in Washington.


In the corridor, cheerful octagenarians in colorful coats swap stories of the war and life since. Occasionally, they are interrupted by their own voices, emanating from video monitors that line the displays.


"There you are!" someone whoops, and Henry Davis smiles wryly at his face on the screen. "This whole thing is unique," says Davis, who served in an anti-aircraft unit in the 29th Division and wrote his own memoir — K-Rations, Kilroy, KP, and Kaputt: One GI's War. "There's been nothing like this to document what Jews did." Next, Ed Koch appears on the screen — identified not as "Mayor," but as "Sergeant."


Pearl Crystal Scher joined the Marine Corps in Brooklyn and got shipped down to Camp Lejeune, North Carolina, where she taught plane identification — among other things. "My first assignment was to try to cure a drunk, a male Marine who was well-beloved by his commander," she says excitedly, clutching her Jewish War Veterans cap. "Needless to say, I couldn't cure him. But they kept him anyway!"


She leans in closer. "This is all very educational for me, too," she remarks, waving at the displays. "I had no idea — and I was in the service!"


Morgenthau says he wants to keep the exhibit open permanently, to make up for lost time. Just as Holocaust survivors kept the horrors of their experiences hidden for decades, so were veterans unable to articulate "the darkness" they encountered. "For 50 years," he says, "nobody talked about this."


As the wave of distinguished guests filters out of the exhibit, the first school group, a mishmash of Jewish day school kids and public-school students, makes its way in. At the lead, another veteran is just beginning his story.


"You may not realize, but it was people your age, maybe a couple years older," he tells his attentive listeners. "They did extraordinary things."

Every weekday JewishWorldReview.com publishes what many in Washington and in the media consider "must reading." Sign up for the daily JWR update. It's free. Just click here.

JWR contributor Victor J. Wishna is a New York City-based journalist. Comment by clicking here.

Second thoughts at September 11th
Staging a Comeback
Hip-Hop Mameleh
© 2003, Victor J. Wishna