http://www.jewishworldreview.com | Q: I was raised in an atheistic home by Communist activist parents. My husband and I were married by a rabbi and have raised our children Jewish. Our third child is about to celebrate his bar mitzvah, as did the other two. My siblings and the last surviving family member of my parents' generation are barely able to contain their contempt and bewilderment about our religion. There have also been complaints about the "long," unintelligible (to them) Sabbath service, which always puts me on the defensive. How can I get through this wonderful event without feeling resentful and upset?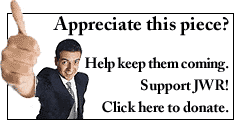 A: Don't invite them. Or, if you do, do so with the proviso that the first negative remark or evidence of veiled (or not so veiled) contempt will result in immediate expulsion. Perhaps you are all operating under the misguided belief that you are doing each other a favor: you by inviting them, they by attending. Clearly this is not so. You may be surprised to discover that they feel the same way. If this is your last child — and your last bar or bat mitzvah — why not give yourself a gift and allow yourself to enjoy this one thoroughly. You are too old to seek your family's approval and to suffer from their disdain. And they are too old to change.

Q: I am a 24-year-old graduate student studying and practicing to become a concert cellist. For the past two years I have been working my way through school and playing as many gigs on the side as possible to support myself. I would like to be able to spend more time studying, more time enjoying life and less time working. Am I too old to ask my parents to help pay for my living expenses?
A: Assuming your parents are in a position to help support your dream, I think they've already sent you a signal about where they stand on this matter. Still, I don't think there is anything wrong with asking your parents for money — no matter how old you are — as long you don't think there is anything wrong with them saying no.
After all, it is their money to do with as they please.
In general, I am a strong believer that privilege can rob children of ambition and responsibility. But you sound like you have two feet — and a cello — on the ground. It sounds like your parents have already done a great job. So, as long as you can live with either answer, ask away.
---
Ask Wendy a question — almost any question — by clicking here.