Jewish World Review Nov. 6, 2003 / 11 Mar-Cheshvan, 5764
Lies (and the lazy dunces who put them on Page One)
By Andrew Silow-Carroll
A respected editor comes clean about his profession and the "news process"

http://www.jewishworldreview.com | When I was working for the Forward I got a call from a staffer at the Committee for Accuracy in Middle East Reporting in America, the pro-Israel media monitor, complaining about a headline that appeared in the paper. I forget now what the headline said, but she began by telling me it was biased, slanted, inaccurate, politically unbalanced —

I cut her off. "You're right," I said. "It was late, I typed a bad headline, no one caught it, and we regret it. We messed up." I don't think I said "messed."

There was stunned silence on the other end of the phone, no doubt because she was used to journalists defending their product to the bitter end, bristling at charges of bias, and slamming the phone down in contempt. I bypassed the broyges (perturbance) by fessing up to a simple truth: Newspapers often make mistakes that have nothing to do with the political slants or personal agendas of the journalists who work there.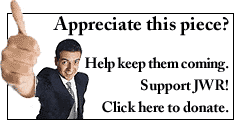 This may be hard to believe, with the best-seller list dominated by such works as Lies (and the Lying Liars Who Tell Them) by the liberal Al Franken and Who's Looking Out For You? by the conservative Bill O'Reilly, both attacks on the authors' adversaries in the media. And no doubt reporters and editors often reveal their political and ideological prejudices through selective reporting, loaded language, and the none-too-subtle placement of photographs and page-one articles.

But I've worked at enough newspapers to know that readers too often assume bias when there are often a host of other, more prosaic factors at work. Before you accuse a newspaper of bias, try to control for these four things: ignorance, logistics, storyline, and storytelling.

Ignorance. I've fielded calls from local leaders who were incensed that we left information out of an article about their institution, or that we wrote one of those unfortunate headlines, and assumed it could only be that we hated them and their work. It's flattering, in some ways, to be considered so competent that the possibility that we didn't know any better is not taken into consideration. The truth is, we try to get the facts, but nothing exposes a knowledge gap like tight deadlines and packed schedules.

Logistics. A reader of the paper I edit, the New Jersey Jewish News, recently asked why a Washington story he considered important was deemed worthy only of a brief article on page 36, rather than more extensive treatment closer to the front of the newspaper. He could only assume that we downplayed the story because we didn't share the protagonist's politics. The truth was the story broke late on a Tuesday afternoon, shortly before we went to press and many hours after we had selected which earlier stories went where. I'm still not convinced the story was worth more extensive treatment. But even had I wanted to "front" it, our usual Washington correspondent was on vacation, and the wire service on which we depend to supplement our coverage of the capital sent us only a three-paragraph article on the topic.

At this point, I'm tempted to write "and then the dog ate the article"; but my point is that there are plenty of reasons, not excuses, for the decisions we reach. Take the often controversial decision about which articles make it to the front page. At a weekly tabloid like ours, only two, perhaps three, articles get that treatment in a given week. We have a strong preference for local news, under the assumption that there are plenty of other outlets covering the big national and international stories. Non-local stories get extra points if they include a local or state figure, such as a politician or communal leader. We could run a front-page article on Israel or anti-Semitism every week, but we try not to; we think it important to vary the diet. A good illustration is important, and we've sometimes "fronted" uninspired stories that are accompanied by great photographs.

Storyline. In the most recent issue of The New Republic, Jonathan Chait writes about media bias: "Once the news media has settled on a perception of a political figure, it becomes nearly impossible to dislodge." That's true of many, if not all, news phenomena: Lazy or time-pressed writers fit the facts of a story into one of a number of preconceived templates. One of my favorite examples was in The New York Times' coverage of the tensions at Rutgers between pro-Israel and pro-Palestinian groups. On Oct. 11, Maria Newman wrote, "Rutgers has become embroiled during the last few months in a fierce debate about politics in the Middle East. And at times the debate has degenerated into incidents of incivility." Those two sentences imply that both sides of the debate carried out "incidents of incivility," when, in fact, the reporter would be hard-pressed to find a single example of an Israel supporter misbehaving (it was a Palestinian supporter who tossed a pie at Natan Sharansky, and the Hillel House that suffered a graffiti attack). According to the reporter's storyline, each side in the Middle East conflict, or a campus tussle, must be equally to blame. In this case "balance" perverted the truth.

Storytelling. Finally, journalists love a good story — and, let's be honest, so do readers. And the temptation is to tell a tale from an unusual angle. I'm guessing that's why, of the two main stories in the Times on the Rutgers conference, one profiled Charlotte Kates, the woman who organized the pro-Palestinian conference, and the other led off with Abe Greenhouse, the Jewish student who tossed the pie at Sharansky. The editors guessed, correctly, that we'd be fascinated by a profile of a young woman who joined the Communist Party at age 13 and still reveres Lenin. And Greenhouse is a classic example of "man bites dog" — the Jewish kid who joins the Palestinian cause (that's why NJJN also wrote about him). The Times may or may not have it in for Israel, but in this case, I'm guessing they merely wanted to entertain.

Of course, controlling for ignorance, logistics, storyline, and storytelling does not mean you won't find evidence of bias. Nor does it absolve editors of the responsibility of rooting out bias, overt or subconscious. But if editors agree — really agree — to examine their own prejudices, then readers should be willing to understand the pressures and constraints under which journalists' work. "Journalists aren't biased, just incompetent" (or "lazy" or "overworked") is not exactly a rallying cry, but readers and reporters should remember that it sometimes fits.
Every weekday JewishWorldReview.com publishes what many in Washington and in the media consider "must reading." Sign up for the daily JWR update. It's free. Just click here.
JWR contributor Andrew Silow-Carroll is Editor-in-Chief of New Jersey Jewish News. Send your comments to him by clicking here.
© 2003, New Jersey Jewish News