http://www.NewsAndOpinion.com | (KRT) Microsoft announced Wednesday it was launching a worldwide manhunt for the creators of Sobig and Blaster, which crippled computer networks and snarled Internet traffic worldwide in August and September. Each crime is worth a $250,000 reward for information leading to the arrest and conviction of the perpetrators.
And that's just the beginning. The software giant, whose Windows operating system runs more than 90 percent of the world's computers, has earmarked an additional $4.5 million for bounties in future attacks.
"These are not just Internet crimes, cybercrimes or virtual crimes. These are real crimes that hurt a lot of people," said Microsoft general counsel Brad Smith at a Washington news conference announcing the bounty. He was joined by officials from the FBI, Secret Service and the international police organization Interpol.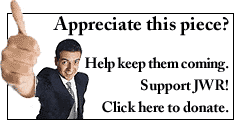 U.S. law enforcement officials have identified suspects behind variants of the Blaster worm, but haven't tracked down the original author, said Keith Lordeau, a senior official with the FBI's cybercrime division. Microsoft and law enforcement officials are hoping the bounty will help generate worldwide interest in tracking down the culprits.
Part of the difficulty in making arrests is that hackers, like gunslingers in the Wild West, are sometimes treated as heroes by some in society, said Harris Miller, president of the Information Technology Association of America. "Too many times people believe cybercrimes are not crimes."
Microsoft has been criticized by security experts for not doing enough to protect computer users from security breaches. But Smith said the bounty is only part of a multi-pronged effort to crack down on cybercrime.
He noted that the company also is focused on strengthening its software against malicious attacks, educating consumers on steps they can take to protect themselves, and working closely with government to combat the problem.
Appreciate this type of reporting? Why not sign-up for the daily JWR update. It's free. Just click here.
Comment by clicking here.