Jewish World Review Nov. 6, 2003 / 11 Mar-Cheshvan, 5764

Lloyd Grove
Let them eat pita?; verbal jousting; pretenders to the throne?
http://www.jewishworldreview.com | NEW YORK — Palestinian First Lady Suha Arafat — whose husband regularly duns governments in the Middle East and Europe to help his poverty-stricken people — is living in Paris on $100,000 a month from Palestinian Authority coffers. And Palestinian President Yasser Arafat has amassed a personal fortune estimated at between $1 billion and $3 billion.
CBS correspondent Lesley Stahl offers those and other choice nuggets this Sunday on "60 Minutes." Stahl told me exclusively Wednesday that Suha Arafat's mother, Raymonda Tawil, is also living lavishly — apparently off international largesse and the Palestinian taxpayers.
"I have visited Suha's mother and she lives very well," Stahl said. "On our last trip to Paris, we looked for Suha but we didn't find her. I heard that the French took away her bodyguards and that Palestinian bodyguards now protect her."
Rumors of the 40-year-old Suha Arafat's extravagance — and her 74-year-old husband's use of public funds to pay her expenses — have been circulating for years in the Arab world and beyond.
"The last I heard, she was living in the Bristol Hotel, which is regarded as one of the premier hotels — if not THE premier hotel — in Paris," a highly placed Arab source tells me. "It is not far from the Elysee Palace and the American Embassy and the fashionable shopping district, Rue St. Honore. I understand that she has a whole floor to herself and her entourage, and that she has been living there for over a year. Must be quite expensive, especially given the financial situation of the Palestinians. . . . And that does not include shopping and dining!"
The switchboard operator at the Bristol, where a suite and 19 rooms go for $16,000 a night, told this column yesterday: "There is no one listed under the last name Arafat at the hotel."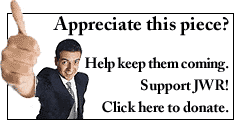 A Paris-based letter-writer, Eli Tabori, told the Jerusalem Post last year that Suha was said to be living with Arafat's 8-year-old daughter Zahwa "in the fashionable Neuilly quarter . . . protected from the ill-doings of her husband." Tabori added: "While Europeans find it hard to make ends meet under the yoke of their respective EU tax systems, she shops for jewelry in the Place Vendome and frequents chic boutiques."
Asked by the French magazine Le Parisien why their daughter was born in Paris, Suha Arafat explained: "Our child was conceived in Gaza, but sanitary conditions there are terrible."
VERBAL JOUSTING
Maybe the long right arm of Sly Stallone has reached out to jab at club fighter Chuck Wepner's attempts to get ink for his promised lawsuit against the star of "Rocky" movies.
Then again, maybe not.
"There is no long right arm of Sly Stallone — the guy's not even a fighter," said the 64-year-old Wepner, who wants big bucks from Stallone for allegedly basing the movies on Wepner's life story. "So when people ask, 'Why don't you two just duke it out?' I just want to laugh."
Wepner, who once went 15 rounds with Muhammad Ali, talked to me Wednesday after Rocco DiSpirito's overexposed restaurant Rocco's — where Wepner had planned a Nov. 13 news conference to announce the formal filing of the long-awaited suit — pulled out of the event.
Wepner's attorney, Anthony G. Mango, claimed Rocco's had agreed to host the event, but that DiSpirito's publicist Susan Magrino apparently vetoed the plan, saying the controversy would hurt the restaurant's image.
"I will not be put in the position of being the bad guy," Magrino responded, noting that the restaurant balked for a variety of reasons, including a scheduling conflict.
Mango shot back: "What I've told you is a hundred percent on the money." Magrino, meanwhile, pointed out that she has never even met Stallone, "although I did see him across the room the other day at Michael's."
Wepner said his news conference is now going to be held at Mickey Mantle's.
THE BRIEFING
PRETENDERS TO THE THRONE?: Rumors abound that British designer Alexander McQueen will take over as the top stylist for Gucci and Yves St. Laurent after Tom Ford steps down in April. McQueen, whose name is already a Gucci Group label, is best known for his wild imagination (his last Paris show was a fully choreographed dance) and his over-the-top clothes (like those aptly named bumster pants from a few seasons ago — an experiment in "plumber butt" for the very chic). Other names being whispered by fashionistas include odd-ball Dutch designers Viktor Horsting and Rolf Snoeren. The Gucci folks didn't return this column's calls.
SLOPPY PERFORMANCE: Rock-star bravado? Possibly. But Julian Casablancas, lead singer of the Strokes, looked like his blood-alcohol level was definitely way up there during Tuesday night's concert at the Bowery Ballroom. When Casablancas stumbled on stage, it seemed like he'd really celebrated the successful launch of "Room on Fire," the band's second album. During his first song, the singer tumbled off the stage into the arms of the crowd, and lay there aloft in a prone position — still singing — until a guard rushed out to retrieve him. Then Casablancas swigged from an assortment of drinks at drummer Fabrizio Moretti's feet. Halfway through the set, he started singing the wrong song, and guitarist Nick Valensi marched offstage in an apparent huff. When Valensi returned, a chastened Casablancas got it sufficiently together to finish off the set — though not without a few more drinks. Watching it all was official Strokes Band Aid and Moretti gal pal Drew Barrymore.
A GOOD FIT?: A private consultation with South Beach Diet Guru Arthur Agatston will be among the items auctioned off at Saturday's Promise Ball benefiting the Juvenile Diabetes Research Foundation. Maybe celebrity auctioneer Rosie O'Donnell, who scotched a cover photo for her defunct magazine because she thought it made her look fat, might want to bid.


Comment by clicking here.

11/05/03: Will Harvey Weinstein and Gregg Easterbrook now be pals?; crazed Quentin; more
11/04/03: Herding off the hipsters; more
11/03/03: Dean's tell-all on himself?; Lisaraye vs. Mya?; the odd couple; no need to panic; just don't call him "Scooter"!; Rosie scenarios
10/30/03: Autumn of the editor?; Cynthia Nixon's split may be costly; 'Burning' questions
10/29/03: Ah-nold, unauthorized!; a dilemma for Melissa Gilbert? not even Frank Gifford can help him now!; nobody wanted Elizabeth Hurley
10/28/03: It's Cher calling!; Brown Alert
10/27/03: Paparazzi uncensored!; where's Aaron Brown?; postcards from the middle; invasion of the party snatchers?; House flooded when not afire?; suspenders of disbelief?
10/23/03: Ace up Howard Dean's sleeve; Woody's ordeal; Paul Simon's kid makes good; the non-beginning of a beautiful friendship?
10/22/03: Showing the flag; Joe Frazier, smokin'!; see Carville bruised-up — sort of
10/21/03: Morris & Jaci's charm offensive; Hell hath no fury; Wintertime for Hitler
10/20/03: Isn't it rich?; men (and the occasional woman) behaving badly; peacenik John Lennon supporting the U.S. military?; courageous Connie
10/16/03: George Clooney and intolerable Drudgery; Cameron goes native; and you thought the war in Iraq was nasty?; now it can be revealed; star wars?
10/15/03: Kerik into the breach?; holiday pander?; "the Dink" corrects the record; more
10/14/03: Madge gets mad, lips are sealed; the candidates who listen; he who hesitates is Beatty
10/13/03: Clothes, but no cigar; New Yorkers put a Sox in it; mad at Matalin?; more
10/09/03: Gray Davis goes to the movies; Ali Wentworth, working blue; Law & Order?; pot of gold at the end of the rainbow room?
10/08/03: Art-time for Hitler; the actress who hates movies; lying "Liam"
10/07/03: Pond scum of the rich and famous
07/24/03: Ali and George, living it up; Mel Gibson's Washington power play
07/21/03: White House smear?
07/17/03: Yet another intern scandal; it's her party and she can pay if she wants to
07/14/03: On the auction block: JFK'S boxer shorts; love bytes the maestro
07/10/03: A hairy situation at Homeland Security; Van Susteren v. Orth
06/30/03: Rep. Patrick Kennedy: I've never worked a (bleeping) day in my life; Drudge's dressing down; Ken Lay's Kerry connection
06/26/03: Rapping the beat
06/23/03: Another Watergate scandal?; AL GORE TV!
06/19/03: Tony Snow, rocker?; that won't be crow on Mr. Carlson's plate
06/16/03: Missing dog, ransom demand, Hollywood ending
06/12/03: Giving both parties the needle
06/09/03: WHAT DID SHE KNOW, AND WHEN DID SHE KNOW IT?
06/05/03: Incoming from Barbara Bush?
06/02/03: Bob Dole's plan for fighting unemployment
05/29/03: Newt's new novel
05/27/03: Hitchens & Blumenthal, together again; He still believes in a man called Hope
05/09/03: Close, but no cigar; Romeo & Juliet with a happy ending?; Geraldo to help Heebs?
05/05/03: So Bill Gates and Tom Brokaw walk into a coffee bar . . .; hotel hell; more

© 2003, Creators Syndicate