Jewish World Review Nov. 16, 2003 / 21 Mar-Cheshvan, 5764

Battle of the Liebermans

By Binyamin L. Jolkovsky

http://www.jewishworldreview.com | It's not every day that a parochial school teacher receives e-mail from a presidential candidate's brother-in-law attempting to do damage control. Then again, it's not every day that both the politician and his critic not only share the same names, but their wives do as well.


When Joseph Lieberman, 32, of the Chassidic neighborhood of Boro Park in Brooklyn, opened his e-mail last week, he was surprised to find a message from Ary Freilich, who identified himself as Hadassah Lieberman's brother.


Freilich was angry.


Very angry.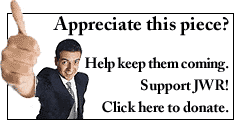 Though one would expect Orthodox Jews to be the presidential candidate's biggest supporters — Lieberman was, after all, once known as the "conscience of the Senate" and refers to himself as "observant" — in actuality, while many hold the Connecticut pol in high regard as a person, they likewise view him as an opportunist who used his religion as a means to advance his career.

In fact, Lieberman, whose wife's name is Hadassah, actually wrote the book on the topic. Literally.

"Joseph Lieberman is a Pious Liberal and Other Observations" is the political flip-side of "Rush Limbaugh is a Big Fat Idiot and Other Observations" and the two books' covers actually closely resemble one another. (Click HERE to purchase. Sales help fund JWR. )

"The senator marketed himself as a man of morals, but when it came time for him to prove his mettle, he sold out," the author told JewishWorldReview.com.

Freilich warns in the missives, obtained by JewishWorldReview.com, that he does not authorize the publication of his correspondence. And he was unavailable for comment at deadline time Saturday night.

But JewishWorldReview.com can reveal much of the heated exchange dealt with Sen. Lieberman as a role model. More specifically, if a person of faith may advance an agenda that is at odds with his belief system in order to serve in the highest office in the land.

"Basically, the exchange boiled down to this: Is making history more important than making a chillul Hashem?," a desecration of the Creator's name, Lieberman told JewishWorldReview.com

Lieberman feels that as the senator's political ambitions soared, his values declined. As examples, he observes that in recent days, the would-be president spoke out against the ban on partial-birth abortion and re-affirmed his support of gay rights. Both of those positions, asserts the author, are in direct violation of the Seven Noahide Laws, the universal code of ethics that the Torah demands of all humanity.

In an effort to shore-up support in the black community as a vice presidential candidate, Lieberman embraced Nation of Islam Leader Louis Farrakhan, going so far as to say he "respected" the man who reportedly once described Judaism as a "gutter religion." He also attended a fundraising event at the home of a Hollywood honcho surrounded by many in the film industry he used to criticize when he and conservative moralist William J. Bennett worked together at the Washington think tank, Empower America.

And then there was his comment on the Don Imus show that marrying out of the faith was kosher. A comment, notes the Brooklynite, that he never publicly retracted. The senator, notes Lieberman, also flip-flopped on issues such as affirmative action and educational choice.

Does the parochial school teacher actually expect to ever discuss his issues with the senator? Not really, it seems. But it's not for lack of trying.

Lieberman has phoned and e-mailed his namesake — "always with the utmost of respect, of course" — and he even attempted to bring his class to meet with the pol on the school's annual trip to Washington. But when he phoned to arrange the meeting, the staffers said that the senator would not be interested. When pressed for a reason, they would not give one, Lieberman says.

"When Sen. Lieberman changes his ways, I'll be more than happy to pull my book from Amazon.com and stop speaking out against him," he promises. Until then, he feels it's a mitzvah, or religious duty, "for believing, observant Jews to be vocal about what Judaism is and isn't."

On one point, however, Lieberman concedes — actually, hopes — in the end he may be proven wrong.

Amid the electronic debate, he wrote: "Mr. Freilich, it is very unlikely that we will change each other's minds." In the duo's last exchange, Freilich wrote that he needed to think-through Lieberman's point about an individual not being able to morally separate his private and public selves.
Every weekday JewishWorldReview.com publishes what many in Washington and in the media consider "must reading." Sign up for the daily JWR update. It's free. Just click here.
Binyamin L. Jolkovsky is JWR's editor in chief. Comment by clicking here.
© 2003, JWR