Jewish World Review Nov. 28, 2001/ 13 Kislev, 5762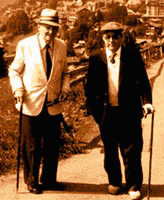 Seth Lipsky, r, with
Nobel prize winner I.B. Singer
The Return of Seth Lipsky

By Binyamin L. Jolkovsky

http://www.jewishworldreview.com -- NOW it can be told.
Seth Lipsky, the fabled Manhattan newspaperman who turned the century-old Yiddish Forward from a withering tabloid into one of the most important ethnic papers in America before the national Jewish weekly's geriatric board members forced him out, will launch a upscale and literary -- and conservative -- broadsheet to go to battle with The New York Times.
For months, JewishWorldReview.com was aware of the secret negotiations that were underway, but was asked not to publish any details.
News of the launch of the future paper, to be known as The New York Sun, was first made public by the Drudge Report. The website, however, did not report key details, attributing the story instead to a forthcoming piece in The New York Observer.

The original Sun was founded in 1883 and folded in 1950. It is best remembered for publishing the "Yes, Virginia, there is a Santa Claus" editorial.
Informed sources told JewishWorldReview.com that the paper's first issue will hit Manhattan newsstands on Jan. 15, 2002. Circulation will begin at a minimum of 10,000 copies and will be targeted primarily at Manhattanites. Copies will likely be sold at a buck a pop, sources tell JewishWorldReview.com, and will also be available at select locations in the "outer boroughs."
Cyber columnist Matt Drudge reports that Conrad Black, the owner of the Chicago Sun-Times, London's Daily Telegraph and the Jerusalem Post, among other media outlets, will invest "up to $15 million" in the project.
JewishWorldReview.com has learned that the newspaper has secured initial financing for a minimum of three years.
If Mr. Lipsky's previous editorship is any indication, New York's newest daily will not only not shy away from controversy, it will, in all probability, court it. The Forward, under Mr. Lipsky's leadership, regularly took aim at Jewish leadership and, often, made the powers that be squirm. While some critics considered the paper irresponsible, it developed a loyal following among readers who relied on it to tell them the "truth."
Journalists in publications in New York, Washington, and elsewhere owe a debt of gratitude to Mr. Lipsky, who has an uncanny ability to spot raw talent. Ironically, Forward "graduates" include columnists and editors of the very papers The New York Sun will now be going to battle against.
At least one former Forward staffer, however, will be joining Mr. Lipsky. Ira Stoll, currently the publisher of SmarterTimes.com, a daily critique of The New York Times, will be The New York Sun's managing editor.
The paper will have a limited online presence.
Before launching the English-language Forward, Mr. Lipsky served on the editorial board of The Wall Street Journal. He currently pens a weekly column, "Dispatches," for the Journal's website.
---
Binyamin L. Jolkovsky, Editor in Chief of JewishWorldReview.com, was a former contributing editor and columnist at the Forward. Comment by clicking here.








© 2001, JWR