[ J E W I S H L I V I N G ]
controversy!
Cynthia McKinney's
Final Solution?
By Evan Gahr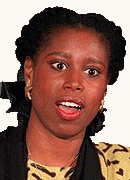 Raeed Tayeh may have thought he was just following in his boss's footsteps.
But now he's out of a job.
Until Wednesday, Tayeh worked for Rep. Cynthia McKinney, the Georgia congresswoman who prattles about like a cross between Noam Chomsky and Al Sharpton. Most recently, McKinney made headlines when she solicited funding from a Saudi prince after Mayor Giuliani rejected his proposed $10 million donation to aid victims of September 11, citing the prince's alleged soft line towards terrorism.
So why was he canned? (EXCLUSIVE!)
l'chaim!
The Promised Land





Jordan "Gorf" Gorfinkel's Jewish Gen-X strip.





[ D A I L Y I N S P I R A T I O N ]


WISDOM EACH DAY: Start your day off right with words that will speak to your heart and soul. (NEVER TRIED THIS FEATURE? YOU DO NOT KNOW WHAT YOU ARE MISSING!)




[ L I F E S T Y L E S ]

Dr. Robert A. Wascher's science and health report: Flu vaccination in asthmatics; low-tar cigarettes are not less harmful; beans and your heart

Bruce Williams on JWR: Joint ownership of CDs; sick spouses




[ I N S I G H T ]



Geoffrey Nunberg: 100 Percent Solutions

Matt Miller: Harvard flunks

Julia Gorin: Bush's Middle East tightrope: Mixed signals, or a stroke of genius? (OUCH!)

Bob Greene: What's in a name? Assumptions that Americans are gullible

Steve Young: Back to normal...too bad.

Robert L. Haught: Animal rights group would like to tan Osama's hide (OY VEY!)

Lewis A. Fein: Conservative Words and Liberal Deeds: Bush at War

Diana West: Beyond morality

Jules Witcover: Stall on campaign finance reform

Jeff Jacoby: Tribunals, motorcycles -- and freedom (GREAT!)

Tim Lynch: FBI missteps

Greg Crosby: Some good news for a change

Howard Fienberg and Iain Murray: Mosques on the Hudson

Lori Borgman: The Leftover Shuffle begins

MUGGER: A weak-tea Eugene V. Debs

Dayle Shockley: Ordinary times provide reason to be thankful (FANTASTIC!)

Michelle Malkin: Banking on American stupidity

Charles Krauthammer: Victory changes everything

George Will: The Dems' $oft $ellout

Mona Charen: Myth busting

Cal Thomas: Outlawing drifting smoke -- and other dumb laws





[ W O R T H 1 0 0 0 W O R D S ]

Mallard Filmore

John Deering

Jack Higgins

Mike Shelton

Jeff Stahler

Michael Ramirez

(Att. working columnists and editorial cartoonists: Think you have what it takes to be featured on JWR? Drop us a note. And readers: We're always open for suggestions!)



[ F A S T P O L I T I C S&nbsp ]








require ("t-ssi/rtorah.html"); ?>