[ J E W I S H L I V I N G ]
moscow diarist
Needing Putin's support, Bush ready to repeal Jackson-Vanik
By Sharon Samber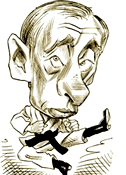 U.S. and Russian Jewish groups are pleased as a law that helped ensure the emigration of tens of thousands of Soviet Jews appears to be approaching its end.
eat, eat!
Sharing comfort:
Sit-down dinners
By Ethel G. Hofman


A new spirit of community has sprung up in our society. Neighbors, friends and family are coming together --- to chat over a cup of coffee or maybe share a casual meal. It's a way of staying connected and grounded at a time when everyone is emotionally needy. Airing opinions, and expressing concerns, will go a long way in helping all of us to heal.
     Our resident gourmet, the former president of the International Association of Culinary Professionals, whose members include the likes of Julia Child, is back with three menus for would-be hosts .


The classic comic strip serial focuses its attention on the battle of religiosity versus modernity. (UPDATED DAILY)





[ D A I L Y I N S P I R A T I O N ]


WISDOM EACH DAY: Start your day off right with words that will speak to your heart and soul. (NEVER TRIED THIS FEATURE? YOU DO NOT KNOW WHAT YOU ARE MISSING!)




[ L I F E S T Y L E S ]

Consumer Reports on JWR: Prevention is the best medicine

Dr. Peter Gott: Exercise-induced asthma is treatable; living wills




[ I N S I G H T ]



Clarence Page: Our troubled sense of trust

Ian Shoales: Literary tips in a jar

Aaron Lukas: More trade means more peace

Michael Barone: Dirty diamonds

Suzanne Fields: 'Assisted suicide,' a medical oxymoron

Dave Shiflett: Men O' War: Testosterone as a weapon of war

Paul Greenberg: No drums, no bugles: a time for Billy Collins

Philip Terzian: The Yanks are coming?

Mort Kondracke: Can Bush and Congress go all the way?

Bob Greene: You can't help the economy without a job

MUGGER: Bush Standing Firm

James K. Glassman: The "Next Big Thing" in Technology?

Jack Kemp: Deflationary recession

Don Feder: Public education not patriotic

George Will: Harry Potter author deserves every penny she makes

Larry Elder: The truth and Mr. and Ms. Clinton

Bob Tyrrell: America's quagmire and other certainties

Ann Coulter: The mind of a lib

Tony Snow: Musings





[ W O R T H 1 0 0 0 W O R D S ]

Mallard Filmore

Gary Varvel

World Editorial Cartoon Showcase: From Australia

Mike Lukovitch

Mike Shelton

Wayne Stayskal

Michael Ramirez

(Att. working columnists and editorial cartoonists: Think you have what it takes to be featured on JWR? Drop us a note. And readers: We're always open for suggestions!)



[ F A S T P O L I T I C S&nbsp ]








require ("t-ssi/rtorah.html"); ?>