[ J E W I S H L I V I N G ]
outlook
The Jewish Ethicist
By Rabbi Dr. Asher Meir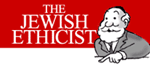 Showing mercy to 'no-shows'
geo-politics
Ariel Sharon, closet dove?
By Tom Rose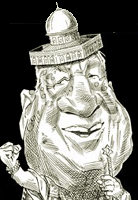 Everyone in Israel knows that Sharon, at the urging of advisers and allies, canceled his American trip this week to avoid facing an American president unhappy about Israel's continued presence in Palestinian towns and likely to demand new Israeli concessions to Yasser Arafat.
    It wasn't fear of offending the president that worried Sharon's team, nor were they afraid the volatile former general might blow a gasket on American television. They dreaded the opposite. Those who know Sharon's history best worried not that he would reject U.S. demands--but that he would likely capitulate to them.


The classic comic strip serial focuses its attention on the battle of religiosity versus modernity. (UPDATED DAILY)





[ D A I L Y I N S P I R A T I O N ]


WISDOM EACH DAY: Start your day off right with words that will speak to your heart and soul. (NEVER TRIED THIS FEATURE? YOU DO NOT KNOW WHAT YOU ARE MISSING!)




[ L I F E S T Y L E S ]

Bruce Williams on JWR: Wife's name left off deed; tax-deferred interest in your case certainly has an upside?

Dr. Peter Gott: A weird question; Is unprocessed food more healthful?




[ I N S I G H T ]



Dick Morris: Clinton's failure to mobilize America to confront foreign terror after the 1993 attack led directly to 9-11 disaster

Crispin Sartwell: Anthrax profilers are giving 'disgruntled males' a bad name

Kathleen Parker: Gender equality isn't a fair question in war

Diana West: What's the matter with Sara Jane?

Mitch Albom Patriotism is no excuse for stupidity (OUCH!)

Linda Chavez: If Hollywood really wants to show its patriotic spirit …

Paul Greenberg: No land war in Asia, or: What's your hurry, Mack?

Michael Ledeen: How We're Doing: The Angleton Files, IV

Debra J. Saunders: Interpreting the entrails of Election 2000

Bob Greene: We're all in this together -- in the dark

Bill Schneider: The otherwar - the one for public opinion

Michael Kelly: "Good evening, and welcome to 'All Is Lost ...'" (GREAT!)

Jonah Goldberg: Making voting easier won't fix apathy

Don Feder: Public education not patriotic

Michelle Malkin: An INS horror story (OUTRAGEOUS!)

David Limbaugh: Media bias, boredom, banality and big-headedness

Walter Williams: Unfinished civil rights agenda

Cal Thomas: Milking and bilking the people over 9-11

Thomas Sowell: Another outrage





[ W O R T H 1 0 0 0 W O R D S ]

Mallard Filmore

Gary Varvel

Jeff Koterba

Jack Higgins

Mike Shelton

Gary Brookins

Michael Ramirez

(Att. working columnists and editorial cartoonists: Think you have what it takes to be featured on JWR? Drop us a note. And readers: We're always open for suggestions!)



[ F A S T P O L I T I C S&nbsp ]








require ("t-ssi/rtorah.html"); ?>