[ J E W I S H L I V I N G ]
past & present
Real Jewish power: Another Vision of Leadership
By Jonathan Rosenblum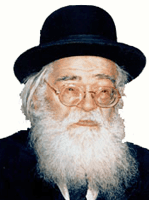 Talk about "culture shock"! When the world renown Torah sage, Rabbi Eliezer Menachem Man Shach, ZT'L, passed last Friday, within hours, hundreds of thousands of mourners lined the funeral route. But all the secular press saw was a dead politician.
An up-close look at a giant of the spirit.
first person
MANIFESTO
By Yaffa Ganz


The following is unsophisticated, undiplomatic, simple, stark and direct. It is also politically incorrect, uncomfortable and difficult for many people to hear. (The truth often is.) Which is why even those in the Government of Israel who accept these principles have trouble articulating them for the public. As a private citizen, I have the luxury of speaking freely (after all, I do live in the only democracy in the Middle East...) and of saying what people - especially Jews - all over the world know and believe is true. Therefore, I hereby proclaim....


The classic comic strip serial focuses its attention on the battle of religiosity versus modernity. (UPDATED DAILY)





[ D A I L Y I N S P I R A T I O N ]


WISDOM EACH DAY: Start your day off right with words that will speak to your heart and soul. (NEVER TRIED THIS FEATURE? YOU DO NOT KNOW WHAT YOU ARE MISSING!)




[ L I F E S T Y L E S ]

Consumer Reports on JWR: Shopping for digital cameras

Dr. Robert A. Wascher's health and science report: My 'gray matter' is bigger than yours; bio-warfare (redux); Mad elk disease?




[ I N S I G H T ]



Matthew Miller: As Bush turns to Hollywood, its creators are pensive

President Bush's address delivered in Atlanta, Ga. (Full text)

Steve Young: Networks at war!

Lewis A. Fein: Perry Masonry: Trying Osama bin Laden

Jeff Jacoby: Muslim, but not extremist

Bill Schneider: The mayor of New Yawk and the King of the World

John Ziegler: TV networks show their true colors (OUCH!)

Lori Borgman: The Next Stage of Parenting

Debra J. Saunders: Safety is as safety does

The Medicine Men: Why the post-9-11 health care debate will never be the same

Eileen Ciesla: Hazy shades of treason (GREAT!)

Diana West: A beef with bin Laden's Beef Noodles

MUGGER: Dizzy Dowd

Bob Greene: The enduring geometry of humans at war

Greg Crosby: Home front

Michelle Malkin: Fallen veteran of an undeclared war (SUPERB!)

Bob Tyrrell: No longer the smug statists, the prodigal Keynesians?

George Will: Inmates and proud parents

Charles Krauthammer: War and the Polar Bear (WOW!)

Mona Charen: We will change, one way or the other





[ W O R T H 1 0 0 0 W O R D S ]

Mallard Filmore

Gary Varvel

Jack Higgins

World Editorial Cartoon showcase: From Ireland

Chris Hiers

Gary Brookins

(Att. working columnists and editorial cartoonists: Think you have what it takes to be featured on JWR? Drop us a note. And readers: We're always open for suggestions!)



[ F A S T P O L I T I C S&nbsp ]








require ("t-ssi/rtorah.html"); ?>