[ J E W I S H L I V I N G ]
To tell the truth
By Jonathan Rosenblum



The image of hate-filled, violent haredim, fervently-Orthodox Jews, has long been a staple of Reform fundraising. Reform spokesmen to this day continue to accuse "yeshiva students'' of burning down a Reform kindergarten in Mevasseret Zion three years ago, despite the absence of a scintilla of evidence to support that charge.
Ironically, Israeli Reform leader Uri Regev himself provided the best refutation of the image of violent haredim. In an article defending a speech in which he compared fervently-Orthodox Jews to the Sept. 11 terrorists, he could barely provide one example of someone educated in the haredi world acting violently against fellow Jews.
Jihad in America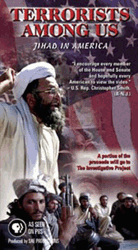 Years before the September 11th tragedy, investigative reporter Steve Emerson went undercover to investigate what was then the sprouting of an evil movement. He worked together with ex-CIA and FBI anti-terrorist experts. He infiltrated conferences and made predictions that were, ultimately, proven correct. View this nearly hour-long video free of charge.


The classic comic strip serial focuses its attention on the battle of religiosity versus modernity. (UPDATED DAILY)





[ D A I L Y I N S P I R A T I O N ]


WISDOM EACH DAY: Start your day off right with words that will speak to your heart and soul. (NEVER TRIED THIS FEATURE? YOU DO NOT KNOW WHAT YOU ARE MISSING!)




[ L I F E S T Y L E S ]

Bruce Williams on JWR: Giving money to grandchildren; condo tax write-off

Dr. Robert Wascher: Making sense of bio-warfare (MUST-READ!)




[ I N S I G H T ]



Lewis A. Fein: Patriots and palm trees (MUST-READ!)

Diana West: A school that teaches patriots to shutup

Jeff Jacoby: Too good for Oprah

Greg Crosby: Will Hollywood Re-up? (GREAT!)

Clarence Page: Wicked ways to make them talk

The Medicine Men: Common sense good for our mental health

Eileen Ciesla: Cold comfort

Michael Long: Rules for Wartime: Rule Number One: Remember what's true (SUPERB!)

Jules Witcover: Feingold's complaint

Lori Borgman: Of boys and patriotism

Michelle Malkin: More Muslim enemies from within

Bob Greene: It's the flag, not the latest fall fashion

Bill Schneider: A nation of defiant optimists (EXCELLENT!)

Phil Perrier: Return to narcissism with Emmys

Bill Tammeus: Recent, recognized research is a hard nut to crack

Sean Carter: Pop-torts (OY!)

George Will: When 'The World' is wrong

Mona Charen: Sleeping giant awakes?

Cal Thomas: The nuclear option





[ W O R T H 1 0 0 0 W O R D S ]

Mallard Filmore

Lola

Bound and Gagged

Mixed Media

Gary Brookins

Jack Higgins

Bob Gorrell

John Deering

Gary Varvel

Mike Shelton

(Att. working columnists and editorial cartoonists: Think you have what it takes to be featured on JWR? Drop us a note. And readers: We're always open for suggestions!)



[ F A S T P O L I T I C S&nbsp ]








require ("t-ssi/rtorah.html"); ?>