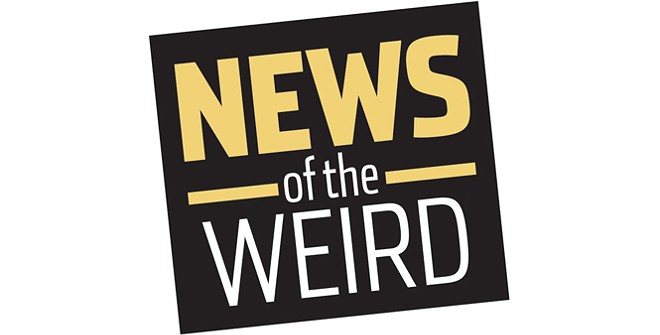 • Uber driver Yasser Hadi of Atlanta was going about his business, dropping off a fare, when a woman "came out of nowhere, threatened to kill him, and then violently bit him," Fox5 News reported.
Hadi told the station: "She's acting weird, she's acting wild, and she's on the car hitting it, telling me I need to die...."
Next the woman climbed inside the car, and scratched and bit Hadi as he tried to pull her out. "I said, 'G od, just let her take my flesh, I don't care.' I want her to go away from me," Hadi said.
Later, Atlanta police arrested 26-year-old Tasheena Campbell, who already had a warrant for an assault charge, for battery and criminal trespass. But Hadi is left with a damaged car, medical expenses and no insurance.
"She's hit me in my job, my health and my financial pocket money. It's hard," he explained. [Fox5, 9/1/2019]

• The Sharonville, Ohio, police department found a way to turn a resident's misconceptions about marijuana laws in Hamilton County into a teaching moment on Sept. 3.
The department posted on its Facebook page a recording of a call received on Aug. 25 from "Mr. Marilyn Manson," who complained that "two Sharonville cops ... stole my f-ing weed last night."
The angry man insisted that anything "under 100 grams is cool, right?" but was, in fact, wrong.
(It is legal to possess up to 100 grams of marijuana in the city of Cincinnati, but that law does not cover the entire county -- including Sharonville.)
The officers who confiscated the weed were arresting the man's wife, whom he identified as Marilyn Manson during the call, when they found the contraband in her purse.
In a second call to police, the caller also complained that the officers had taken his carryout order from Red Lobster.
"It was a fresh meal of Cajun f-ing pasta!" he ranted.
Fox19 reported that a police supervisor later met with the man to clarify the laws about marijuana and explain what had happened to his dinner. [Fox19, 9/7/2019]