<!- end inthis -->
Jewish World Review Oct 26, 2011 / 28 Tishrei, 5772
Pilgrimages
By Alan Douglas





http://www.JewishWorldReview.com | Approaching the airport in Katmandu, Nepal for a landing last week, an airplane crashed and all the passengers were killed. The 19 passengers who perished included Americans (a doctor from Miami and his fiance), Japanese, and Indians; the Pilot and Co-Pilot were from Nepal. The flight had departed from the Katmandu airport without incident, it was returning, without having made any stops, in heavy fog. Some would say the flight was unnecessary. My wife and I have taken that same unnecessary flight from Katmandu.
Nepal is one of the most magical and tragic countries in the world. It was the only officially Buddhist country in the world until recently. It boasts a variety of climates based upon altitude, and an array of wildlife unmatched anywhere else, including the Siberian Tiger and the Yetti (if you believe in Big Foot). This a land of poor peaceful people who export the world's fiercest, bravest fighters, the Gurkhas. It is a place where Buddhist, Hindu, and other religions rather than fighting, share each other's temples and celebrations. It is the land of Kings and royalty with a reigning Virgin goddess. It is where a distraught Prince used an automatic rifle to kill the King and several other members of the Royal Family. But it is also home to years of violence between the Maoists and the King. Now, a peace settlement has been signed and Nepal is a secular country. But what most people think of when (and if ever) they talk about Nepal, is Mount Everest, the world's tallest spire.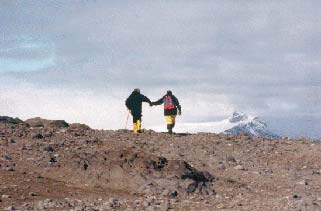 The airplane that crashed was one of the tourist flights that make the pilgrimage to Everest. These flights are a luxury for tourists, without any rational basis. These flights, on small aircraft pose risks. We accepted the danger, to get a glimpse of the world's greatest mountain. My wife and I are glad we did it. Apart from gambling, shopping, and family visits, travel for most human beings is mainly business. But travel is also a source of enlightenment and inspiration. World Heritage sites showcase the beauty of the ancient world and our unique environment. But for sheer grandeur, Mount Everest is the pinnacle (pun intended). When we approached Everest on our flight there was initially noisy excitement and a lot of cameras at work; but that gave way to a peaceful, reverential quiet. I looked over to see my wife staring out the window at Everest, with a steady stream of tears flowing. It is that amazing.
Trips for a purpose, to Lourdes or the Wailing Wall may seem unnecessary to many. An older couple we met on a trip to Antarctica told us once that, "The human spirit requires pilgrimages." The picture shown above of my wife and I exploring Antarctica was a surprise. It was taken by that older couple who sent it to us following that trip. We have always treasured the photograph, and their advice. We stayed in touch with the older couple and exchanged holiday cards with them, updating each other as to our adventures. One day we received a letter telling us that the old couple had died in South America. Their tour bus crashed down a mountain. Those who scoff at adventurers and religious pilgrims would say the older couple took unnecessary risks. Those same people would tell me that taking a flight to see Mount Everest was an unnecessary risk. I would reply, "The human spirit requires pilgrimages."
Every weekday JewishWorldReview.com publishes what many in in the media and Washington consider "must-reading". Sign up for the daily JWR update. It's free. Just click here.
Comment by clicking here.
JWR contributor Alan Douglas, an author, media executive, speaker, and attorney, lives con brio- except when he is grumpy.

Previously:
Moneyball, Economics and Medicine
Justice, My Aunt, and Gretsky
Hurricanes, Earthquakes and Home Depot
Glenn Beck, Norway, Hitler and Me
D Day: The Ripple Effect
What are you paying for?
Law, Etiquette and 5 Rules
Inspiration
Confusing Kindness with Weakness
When Katie Couric Got Pulled Off the Air…
Don't second guess the deceased
Pain and legacies
Being in the No
The Sixth Sense
Dogs in Danger
Facebook, LinkedIn and the Zuckerberg Exit
Simon Bolivar Would Tell Glenn Beck to, 'Put A Sock In It'
Children and Grandchildren
Swearing, Shoes, and Mark Twain
How my poor man's Porsche, Virgil, prepared me for life
Leases and Landing Gear
The Oscars, Obama and Job Creation
Damages and Penalties
Obstacles with Impossibilities
Making Others Feel Bad
Referrals and Recommendations
Woodpecker Frustration
Phrases, Not Resolutions
I Was A Crime Fighter and Super Hero
Comforting with Sympathizing
Nautical Worry Killers
Can You Keep A Secret?
Holiday Card Hazards
Gifts
Sharing, Transparency and Dumping
Red Alert
Readers Respond Regarding Rabbi
Readers: I Need Your Help with my Rabbi
Humphrey Bogart and P. T. Barnum on Fighting with Family and Friends
Columbus, Honors and Hound Dogs
The Free Lunch
When your child suffers
Conversational Transmitted Diseases
Conservative, Liberal or American
Paris, Antarctica and Shopping
Personal Protection
Dispute Resolution
Jumped or Pushed?
Friends and Acquaintances
Revenge and Vindication

© 2010 Alan Douglas
Columnists
Toons
Lifestyles