http://www.jewishworldreview.com | Q: I recently received a brochure from a Jewish funeral home offering a service I find appalling: a personalized video of the deceased that can be viewed at the funeral and on demand whenever you visit the gravesite. Surely this cannot be in keeping with Jewish law?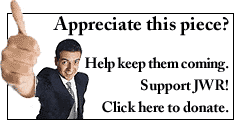 A: Consulting Jewish texts about the "legality" of videos for the dead is like asking the framers of the Constitution if they made allowances for Internet dating.
Against Jewish law? No. Against any semblance of good taste, religious or secular? Absolutely. Tacky. Embarrassing even. Are there special effects? Serial rights? Are the producers members of the Writers Guild of America?
This is the kind of thing that makes the Dark Ages look good. And with good reason. Tempting though it may be to immortalize your loved one this way, a family picture album, sprinkled with babka crumbs at the kitchen table, is probably a more tasteful way to go. No one needs a posthumous Emmy, after all.

Q: I have a neighbor who is mentally challenged. He is unable to obtain a driver's license or keep a job, and will probably be dependent on his family for the rest of his life. The problem is this: I have established a friendship with him, but now he knocks on my door many times a day, every day. I don't want to end the friendship; I just don't want to be a full-time companion. Is there a way to end this siege without being cruel, or am I forced to choose between being his friend and having my privacy?
A: Your new friend sounds like he is either taking advantage of a commodity that is in short supply in his life or like he is having some difficulty understanding boundaries.
Or both.
Assuming he still lives at home with his parents, why not walk next door and have a chat with your new friend's mom or dad? Explain that you would like him to call before he drops by, that you are pleased with the friendship, but that your time is in short supply.
Otherwise, the next time his parents come to visit, take the opportunity to have that chat. You've done something wonderful and shouldn't feel you have to pay the price for having opened your heart and door. Neighbors everywhere should take a page from your generous book.
---
Ask Wendy a question — almost any question — by clicking here.