<!- end inthis -->
Jewish World Review Oct. 23, 2003 / 27 Tishrei, 5764

When bad ideas happen to good writers

By Andrew Silow-Carroll

http://www.jewishworldreview.com | You'd think that the biggest anti-Semitism story of the week would be that of Malaysian Prime Minister Mahathir Mohamad, who got a standing ovation at the Islamic Conference in Kuala Lumpur for declaring that "the Jews rule this world by proxy. They get others to fight and die for them."




But giving Mahathir a run for his money was New Republic writer Gregg Easterbrook, whose questionable remarks came in a scathing review of the ultra-violent film Kill Bill in his Web diary, or blog. Easterbrook wrote, apropos of very little, that the studio execs behind the Disney/Miramax film, Michael Eisner and Harvey Weinstein, are Jewish, and went on to condemn "Jewish executives [who] worship money above all else, by promoting for profit the adulation of violence…."




The paragraph in question raised a storm of protest, apologies from Easterbrook and The New Republic, and a statement from the Anti-Defamation League that Easterbrook's apology was "insufficient." Easterbrook reportedly was sacked from his job as an on-line football analyst for ESPN (owned by Disney, we should point out).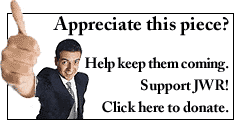 Easterbrook's apology was indeed lacking, as poorly thought out as his original essay. In the essay, the references to Eisner's and Weinstein's religion come in a final "corporate sidelight" to his criticism of the movie. He writes, "Disney's CEO, Michael Eisner, is Jewish; the chief of Miramax, Harvey Weinstein, is Jewish. Yes, there are plenty of Christian and other Hollywood executives who worship money above all else, promoting for profit the adulation of violence. Does that make it right for Jewish executives to worship money above all else, by promoting for profit the adulation of violence? Recent European history alone ought to cause Jewish executives to experience second thoughts about glorifying the killing of the helpless as a fun lifestyle choice."
In his apology, Easterbrook blames the speed of Web writing for a "terrible job through poor wording." But Easterbrook, who writes frequently about his own Presbyterian church, also has this to say: "I think it's fair to raise faith in this context: In fact I did exactly that one week earlier, when I wrote a column about the movie The Passion asking how we could take Mel Gibson seriously as a professed Christian, when he has participated in numerous movies that glorify violence."
Yet Gibson is directing a self-financed movie about Jesus in what he himself calls an expression of his own Catholic theology; unless Miramax commissioned Kill Bill director Quentin Tarantino to create a midrash on the Sixth Commandment, I don't see how it is at all fair to raise the faith of Eisner and Weinstein (neither of whom, by the way, is particularly active in Jewish causes or communal life). And if you are going to raise someone's Jewishness, you might want to experience second thoughts before using a phrase like "worship money." As The New Republic, a famously unshakeable supporter of Israel, put it in its much more satisfying apology, "The phrase was right out of the classical vocabulary of modern anti-Semitism."
If, however, Easterbrook's point was that Jewish moguls should not be immune from charges of money worship - well, maybe, but who brought up their Jewishness in the first place? My father, who was once called a "lying Jew" by a playmate when he claimed to be safe at second, puts it this way: "You can call me a liar, but what does my being Jewish have to do with it?"
Perhaps a Jewish writer could have gotten away with an essay like Easterbrook's; I can imagine a rabbi writing that Jewish moguls have a particular responsibility to limit the glorification of violence in the media. But even that would be at the very least presumptuous. Eisner and Weinstein have never presented themselves as anything other than executives charged with making money for their corporations; it's not their fault that folks like Easterbrook can't see past their last names.
Between Easterbrook and Mahathir, the latter's remarks were infinitely more dangerous, considering his audience, his reputation as a "moderate" Muslim leader, and his heretofore close relationship with the White House. (It took the president four days to protest the remarks, and he did so only in a private conversation with the prime minister at this week's Asian summit in Bangkok.) The Muslim world has become fertile ground for classic anti-Semitic conspiracy theories, and Islamic extremists have displaced neo-Nazis as the number one threat to the physical safety of the world's Jews. As for the Muslim people, blaming the Jews is what their leaders do instead of undertaking the very reforms Mahathir proposed in the bulk of his speech: rooting out corruption, embracing technological and industrial advances, and resisting the pull of theocracy.
In that regard, the Malaysian's cynical remarks were a felony, while Easterbrook's Web musings were closer to a misdemeanor. Mahathir has a history of Jew-baiting, once blaming the 1997 Asian market crisis on the Jews, while Easterbrook, based on his previous writings and the testimony of his many Jewish friends, is no anti-Semite.
But there is a connection between the casual remarks of a liberal pundit and the calculated spewings of a world leader, which is why it was important that both men's statements were denounced swiftly and mercilessly. The Web is not only too fast for the world's own good, it is too widespread. Rumors fly around the globe at the speed of light, and the stuff formerly reserved for poorly printed leaflets now regularly gets clipped and pasted into articles in the mainstream.
In the non-digital past, Easterbrook might have shared his remarks with friends, been shouted down by a few of them, and left his thoughts on Jewish movie execs in the discard pile where they belong.
In the Internet age, his unfortunate scribblings may be excoriated, yet they move quickly into a Web of approving links and citations, where the words of an American magazine writer are included as "proof" that a Malaysian prime minister's anti-Jewish speech was on the money.
Every weekday JewishWorldReview.com publishes what many in Washington and in the media consider "must reading." Sign up for the daily JWR update. It's free. Just click here.
JWR contributor Andrew Silow-Carroll is Editor-in-Chief of New Jersey Jewish News Send your comments to him by clicking here.
© 2003, New Jersey Jewish News