Jewish World Review Oct. 17, 2003 /21 Tishrei, 5764
Still One Torah
By Gary Rosenblatt


http://www.jewishworldreview.com | Wouldn't it make more sense for us to celebrate the Torah with fervor and merriment on Shavuos, when we received it, rather then on Simchas Torah, when we finish reading it?
After all, when someone gives you a book, or any other gift, you thank him or her for such thoughtfulness and generosity at the moment of presentation, not after you've completed your use of it (though your mother taught you to do that, too).
Maybe one reason why Shavuos, marking the giving of the Torah to Moses and the Jewish people at Mt. Sinai, is observed in a cerebral way — it's a tradition to stay up all night and study Torah — and why Simchas Torah is a time of great joy, is precisely because we most appreciate the Torah's value after we've had a chance to read and study it. And as a sign of how thankful we are for this precious gift, the first thing we do after completing the annual cycle of Torah reading in synagogue is to start right in again from "the beginning," literally, with Genesis and the Creation.
That's what Jews all over the world will be doing this weekend as they celebrate Simchas Torah, singing songs like "Etz Chaim He" (the Torah is "a tree of life") and "Ki Haym Chayenu" (the Torah's words "are our life").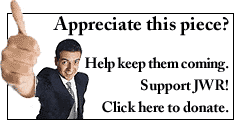 To me, one of the great miracles of this observance is not only that this ancient text — the core of our faith — is revered and found to contain endless lessons and interpretations, but that for all of our differences as Jews, we still read from the same page — or more accurately, scroll.
In synagogues throughout the world, each Torah is handwritten in a timeless tradition by scribes who painstakingly take ink and quill in hand, as prescribed, and copy each letter on parchment, with awe and attentiveness. If even one letter is in error, or too faded to read, the Torah must be repaired before it can be used by the congregation.
After centuries, we may disagree endlessly about the truest meaning of the text, but not about the words themselves.
Remarkable, no?
On Simchas Torah, there is something dizzyingly illogical about the portion read in the synagogue. We begin with Moses' final blessing to his people, delivered lovingly, tribe by tribe. This is followed by his death on Mt. Nebo, after being granted one longing look into the land of Israel. And then we read of the world coming into being, from a formless void, to the culmination of the seventh day, the Sabbath.
On reflection, we realize the message here is that the Torah is a continuum of creation and completion, of death and of life, of human failure and divine perfection.
The Sabbath, we are told, is a taste of heaven. It is G-d's handiwork. We on earth, though — even our great leader Moses — never quite reach the Promised Land.
But we are comforted in knowing the cycle goes on. Offering Moses only a glimpse of Israel in their last encounter, G-d tells him consolingly, "I will give it to your offspring." Each of us is mortal but the chances for human renewal are eternal.
For me, the most tender moment of all synagogue rituals during the year is the Simchas Torah ceremony of "Kol Hanaarim", when all the children — from infants in their parents' arms to pre-bar and bat mitzvah youngsters — are called to the Torah to recite the blessing together, chanting in one voice a praise of G-d for giving us "the Torah of truth."
It is a great honor, sometimes bestowed and sometimes auctioned off, to be the adult reciting the blessing with the children, and I can still see the smile on my late father-in-law's face when he was given that aliyah, shepherding his young grandchildren under his tallis.
In our shul, the sight of hundreds of children huddled under an enormous, handcrafted canopy of a tallis, dedicated in memory of a beloved nursery school teacher in the community, is a most poignant reminder of the continuity theme that drives our faith and our people.
Sometimes lost amidst the kiddie parades and flag-waving and dancing with the scrolls on Simchas Torah is the realization that we have been given a most valuable gift that can and should change our lives. The Torah is sacred, and is treated, at least outwardly, with reverence. That is why we stand in the synagogue when the ark is opened and the scrolls revealed, and why we kiss them when they pass by.
But the greatest honor we can give the Torah, on this holiday and throughout the year, is to take its words to heart, affirming our belief in the holiness of its truths, and of each other.
Sign up for the daily JWR update. It's free. Just click here.
JWR contributor Gary Rosenblatt is Editor and Publisher of the New York Jewish Week. To comment, please click here.
© 2003, NY Jewish Week