http://www.NewsAndOpinion.com | Just about anything in print — or so it seems — can be found in electronic format, and it kind of makes me wonder if anyone still needs paper. Of course, that's an exaggeration, but perhaps not by much.
The October 13 issue of National Review, for example, is mine to read, days — if not a full week — before I could hope to see it in my mailbox. That's because, instead of signing up for the print version, I opted for electronic access to the venerable journal of conservative thought. An e-mail on Friday told me of the issue's availability, both at the magazine's Web site, and as a "PDF" file, the initials standing for Adobe Corp.'s Portable Document Format, which is created using a variety of programs including that firm's Acrobat Professional.
This is not the first magazine of its genre to offer PDF files; each week, the Weekly Standard e-mails a PDF of the new issue to interested subscribers, something begun two years ago in the face of mounting postal delays. (Not all periodicals are equal, it seems: whether in Los Angeles or suburban Maryland, Time magazine showed up, almost without fail, on Monday or, latest, Tuesday. The smaller, less powerful "World" magazine? When I subscribed in Los Angeles a while back, delivery was less than certain.)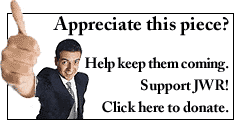 The problems with postal delivery are plaguing publishers and advertisers, both of whom want to get their information to readers at a certain time. The publishers want to get news out while it's still news; the advertisers want current ads before their prospects.
That's where the PDF of National Review comes in rather handy: everything is there, and you can page through it just like a magazine. The ads are there, right down to the classifieds. Nothing is damaged by rain or tearing. One can even print out a given page — or the entire magazine — if desired.
The publishers kindly also have the editorial content of each issue online at a Web site, password protected. This also makes sense, in my view, especially as the archive of such issues grows in the future: it should be easier to search back to 2003 a few years hence.
A wide range of specialized publications are offering PDF distribution, an adjunct to other electronic formats. Zinio Systems, Inc., has brought more than 70 titles from 30 publishers to an interactive format that stores magazines for reading on PC and, now, Macintosh computers; you get the same interactive experience of turning pages as with a paper-based magazine. The Zinio format, in my opinion, is rather well suited to the Microsoft Tablet PC, given that device's use of pen controls and other single-handed buttons and toggle switches to handle the task of flipping "pages." Details on the available magazines can be found at http://www.zinio.com.
Both the Palm handheld platform and Windows Mobile, the platform formerly known as Pocket PC, each have leagues of materials available online for downloading and reading. Some are simple text files, available gratis from Project Gutenberg (http://promo.net/pg/), which boasts more than 6,200 texts. Others are designed for several "reader" programs for Palm and/or the Microsoft Reader; details on these can be had from online handheld software sources such as Handango (http://www.handango.com).
Find this column useful? Why not sign-up for the daily JWR update. It's free. Just click here.
JWR contributor Mark Kellner has reported on technology for industry newspapers and magazines since 1983, and has been the computer columnist for The Washington Times since 1991.Comment by clicking here.