Jewish World Review Oct. 7, 2003 / 11 Tishrei, 5763

Device let you bypass scanner to convert slides; messages from Microsoft that aren't; how do I get rid of the non-stop stream of annoying pop-up ads?
By James Coates
http://www.NewsAndOpinion.com | (KRT) Q. Apart from hiring a professional, what ways are available for converting 35 mm color slides to digital form for storage on CDs?

Richard Baker, St. Louis

A. Mr. Baker of St. Louis, meet Bob Donner of Felton, Calif., a man with what I consider the easiest, if not absolutely most sophisticated, solution to this huge problem you share with millions of others. We all would like to make the stacks of slides taken in the past into the digital images that work with computers.

Most experts suggest buying a scanner with special slide attachments and then feeding slides into it three at a time to create digitized copies of each image. Without an adapter you can just put a piece of white paper on top of the negative or slide and scan, then use the scanner software to make a properly sized image.

These work great, but I'll wager there are those who went off the deep end after spending impossible amounts of time feeding slides into a scanner, waiting 90 seconds for the scan and then using a mouse to move the digital copies into a folder on the hard drive.

Donner fixes the problem with lumber. That's right, boards.

He has built a special box designed to hold a traditional slide projector and beam images onto a letter-size projection screen. Also on the box is a mount for your digital camera. You just flash a slide on the screen then click the camera to make a fine--for most purposes--copy that can be moved onto the computer just as you transfer other digital photos from the new cameras.

Donner admits that you could build the same sort of device on your own but also notes that at a suggested price of $50--and on special now for $40--it would probably cost as much to buy and assemble the parts. I tried a sample and must report that the results were a tad inferior to a properly scanned digital file, but they certainly were good enough for showing on computer screens or television sets.

Keep in mind too, that while the celluloid film used for slides is prone to color loss now and decay later, digital images will last far longer.

Check out SlideToPhoto.com where you can either order one of Donner's boxes or see how to make your own.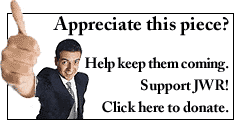 Q. Good morning, Jim! I have picked up two nice tips from your column today. Thank you. I want to ask you about a message that is on my desktop constantly. It is from Microsoft and it states that someone is trying to access my e-mail; if I don't want it check No, etc., etc. Well, I've checked No a long time ago and this message alert just will not go away! It has been on for at least 3 months.

Jim Steddick@sbcglobal.net

A. Your bedevilment, Mr. S., stems from a category of heavy-handed Internet carnival barking known as messenger ads.

These are extremely nasty pitches that pop up from the Windows XP system tray in the lower-right corner of the monitor and try to look as though they are part of the operating system's dialog boxes. Yours purports to be a warning about somebody trying to swipe your e-mail. Others do stuff like say your computer's IP address has been detected and is giving out information that can be stopped by buying something. Others offer to bring you weather data, sports scores and whatever.

The idea is to fool folks into clicking for all sorts of nasty stuff, like installing browser tracking spyware, keystroke loggers and such.

There are two ways to disable this nasty attack, starting with one that works for folks with most Internet service providers except America Online. AOL incorporates pop-up stoppers and message attack shields on its own.

Others should activate the Internet Connection Firewall built in to XP. Click on Start and My Network Places and then give a right-click to the icon for your Internet connection. Pick Properties in the pop-up box then open the Advanced tab on the next display. Check the box to activate the firewall, and those messenger boxes will be stopped at the gate.

If your computer has the XP Network Bridge activated, click on it instead of the icon for your connection to find the Advanced tab.

The other way to pop the messages is by disabling what is called the Windows XP message service, which was designed to let network administrators pass notes to individual workstations. (This is not Microsoft's MSN Messenger feature used to exchange real-time chat.)

To disable the message service, click on Start and Run then type in the command services.msc and tap Return. The box that comes up includes all of the Windows services listed alphabetically, so scroll down to the M's and nuke that nasty little devil.

If you decide that you need the service, you can backtrack and order it reinstated. This can be necessary in some instances when running virus-removal software.

Q. Let me start with the fact that I absolutely love your column. It is pure genius. My question is one that I know you have addressed before but was never relevant to me until now. Something is wrong with my computer--how do I get rid of the non-stop stream of annoying pop-up ads?

Jean Clewlows @comcast.net

A. No matter how much of a self-styled genius that a mope like me might claim to bring to the table, that one small question can have a great many answers and they're always changing, Ms. C.

That's because the proliferation of those outrageous unsolicited pop-up advertising pitches now polluting the Internet have prompted a passel of entrepreneurs to launch a similar proliferation of programs to fix the problem.

I have written about some of them but not all. Intermute's Ad Subtract (www.intermute.com) solves the problem for $30 and offers a free trial of its pop-up stopper. Another $30 fix is the original one in the field, Pop-Up Stopper from Panicware (www .panicware.com). Iolo Technologies LLC (www.iolo.com) also offers solutions.

Lately, however, the operators of the Google search engine have added a really fine pop-up stopper to the Google toolbar. The toolbar (www.toolbar.google.com) works as a plug-in to the Microsoft Internet Explorer Web browser and not only stops pop-ups, but also counts them and reports numbers killed. Happily, when you decide you want to accept pop-ups from some outfit, you can hold down the Shift key while clicking on the address. Some Web sites use pop-ups to do stuff like display stock prices, show times and sales items, so this option is quite handy.
Appreciate this type of reporting? Why not sign-up for the daily JWR update. It's free. Just click here.
James Coates is a columnist for the Chicago Tribune. Let us know what you think of this column by clicking here.

09/30/03:2-step solution for controlling auto-correction; protecting network from viruses and worms and now unable to print; made the mistake of not using the standard Uninstall program for Lotus Notes and not sure what can be deleted
09/22/03: Firewall need not as pressing for dial-up users; yanking spyware-planting home-page-stealing varmints; you know if a souped-up laptop is a must
09/22/03: Turn for help to find firewall in Windows XP; "A Runtime Error has occurred. Do you wish to debug?" — huh?; Virtual Bouncer
09/18/03: Missing features vex preinstalled software users; web browser still comes up with homepage from previous 'Net provider; getting rid of latest
09/15/03: AOL lets users block pop-ups, Google tool free; using audio CDs to to make a photo slide show; removed spyware program and toolbar in Outlook Express 6 disappeared
09/11/03: Point and click to delete pesky duplicate e-mail; printing directories from the Microsoft Explorer
09/08/03: Beastly size of 'swap thing' file shrinks, not dies; Is there a directory or list that rates 'Net services?; getting Hotmail to work in Microsoft Outlook 2000
09/04/03: Worms derail laptop talk, spur advice on minimizing damage
09/02/03: PrismIQ pumps Net music to stereo system; "Iexplore has caused an error in USER.EXE. Iexplore will now close down." — why?
08/27/03: Simple click cleans desktop of icon clutter; getting rid of program 'junk' and saving space
08/25/03: PCAnywhere, broadband can work together; site continues to write into my Favorites subfolder located in the c:¼documents and settings¼user directory; recurring problem with editing and saving Word documents both when using my computer running Windows 98 and another computer running XP Home Edition
08/14/03: PC monitoring of a home easy but not cheap; best of the bunch for PDA/cellphones
08/12/03: Balky AOL 8.0 easily replaced by past version; deleting selected Web site addresses in the drop-down list; clicking on e-mail hyperlink message when using Outlook Express and Internet Explorer, has to minimize the Outlook Express window in order to view the site
08/06/03: When assistant is away, Acrobat puts files in play; getting PowerPoint to play complete song through the presentation without the song starting over on each slide; downloading attachments on Hotmail gets Outlook Express error message
08/04/03: Best way to E-mail photo; firewall recommendation; removing all listing of files that have been created in Microsoft's Word program; stopping annoying Windows 98 dialogue box appears asking to Enter Network Password
07/31/03: Check with IT, then cancel dial mode to use DSL; converting text to audio?; easy to get non-conventional alphabets to display in e-mail and Web sites
07/29/03: Display quality may suffer with Web accelerator; typing symbols not on keyboard; programs were not uninstalled correctly, now what?
07/23/03: How to add the Mail Merge command to the Word toolbar; how to save as a Word doc; company that offers a file/folders print program?
07/17/03: Pay off the spam mongers?; converting casually recorded speech on analog audiotapes to computer text; more on homepage hijackings (browsers)
07/15/03: E-mailed spreadsheets are being received with formulas changed and different figures; two computers with router --- way to print from one that does not have any printers connected to it
07/10/03: Washing laptop; security for your PC — don't be had; needing an AirCard to surf
07/07/03: Don't spend like a pro to convert audio to CDs; "browser hijackings"; automatically checking a CD
07/02/03: Saving time on distribution lists; he changed the color of the fonts in just that one spreadsheet file; not enough space on 'c' drive, lots on 'd'
06/25/03: How to get rid of porn spam; Windows XP dictionary?; Windows ME system can no longer find the Internet with Windows applications
06/25/03: NT flashes "at least one service/driver failed during system startup"; automatically converting .doc and .xls files to .dat; transfers to XP not as vexing as they may seem
06/19/03: Can't open Zip files; RealPlayer won't play .avi files; step-by-step process to "burn" digital images
06/18/03: Restore missing Word task bars in a normal way; computer was zapped, how to fix it; spell check won't upgrade
© 2003, Chicago Tribune; Distributed by Knight Ridder/Tribune Information Services