Jewish World Review Oct 30, 2003 / 4 Mar-Cheshvan, 5764

Why won't the Prez stop using 'fuzzy terrorism' language?

By Zev Chafets

http://www.jewishworldreview.com | At Tuesday's White House press conference, President Bush was asked about the chilly reception he received from Islamic leaders at an Asian summit last week in Indonesia.


These leaders asked Bush why Americans think all Muslims are terrorists. Bush replied that the leaders were mistaken — Americans know perfectly well that terrorism is restricted to "the acts of a few."


The President has been saying this since 9/11. It's possible that many people here believe him. But quite obviously, the Islamic world doesn't.


Why not? The answer isn't complicated. Muslim leaders know better. And they think Bush does, too. Part of the problem derives from what Bush would call fuzzy language. He insists on talking about "the war on terror." But terrorism is a technique, not an enemy, and you don't make war on a technique. You make war on enemies.


For reasons of domestic political correctness and international diplomacy, the Bush administration refuses to name its enemies, even in a general way.


The President talks about terrorism as if it existed in a vacuum. He never uses the terms "Islamic terrorism" or "Arab terrorism." At his press conference, he blamed the recent spate of bombings in Baghdad on "foreign terrorists" — as though these fighters could easily be Belgian Catholics, Chinese Buddhists or Indian Hindus.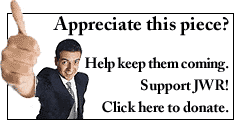 The administration also dissembles by using surrogate demons. Osama Bin Laden is the enemy, but not Saudi Arabia, the source of Bin Laden's anti-American doctrines. Saddam Hussein and his band of followers are the enemy, but they are merely a small and unrepresentative band of outlaws who can be rounded up and rooted out. Yasser Arafat is an enemy, but he is the false leader of a people yearning for compromise and peace. The ayatollahs are the enemy, but the Iranian masses love America and yearn for democracy.

This is sheer nonsense, and nobody knows it better than the Arab and Iranian dictators of the Middle East and their Islamic allies. They know perfectly well that America is hated and feared by the clerical and political classes — the only ones that matter — from North Africa to Southeast Asia.

This hatred is so widespread and powerful that it unites ancient rivals. Sunnis and Shiites, Persians and Arabs, Baathists and royalists, tribal leaders and urban intellectuals, theologians and supposedly secular military officers — all gather under the banner of jihad.

Bush can insist all day long that America isn't at war with Islam. But that misses the point. In varying degrees, the Islamic world is at war with the U.S., its interests and purposes.

Muslim leaders know that, obviously, and they think Bush must know it, too.

Tuesday night, Bush hosted his annual dinner marking the Muslim holiday of iftar. The guest list included many dignitaries from Islamic countries and organizations now engaged in undermining U.S. efforts in Afghanistan, Iraq, the Mideast and elsewhere. Or, in Bush's own terms, actively aiding and abetting terrorists.

In past years, the President has used this dinner to proclaim that the U.S. isn't at war with the Islamic world, only individual bad guys who happen to be Muslims, that Islam is a religion of peace and there is no inherent conflict between American and Islamic ideologies or interests.

This message always wins Bush a round of polite applause. But not a single one of his guests believes it.

They all know better.
Every weekday JewishWorldReview.com publishes what many in Washington and in the media consider "must reading." Sign up for the daily JWR update. It's free. Just click here.


JWR contributor Zev Chafets is a columnist for The New York Daily News. Comment by clicking here.
© 2003, NY Daily News