Jewish World Review Oct. 23, 2001 / 6 Mar-Cheshvan, 5762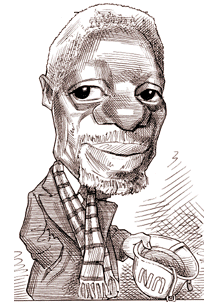 If the UN deserves the Nobel Peace Prize, then ...

By Rabbi Hillel Goldberg
http://www.jewishworldreview.com -- The United Nations has won the Nobel Peace Prize. Congratulations!
With the Nobel award to the UN, hope springs eternal. Now, the most deserving individuals or groups -- so long and unjustly overlooked -- have a chance. If the UN deserves the Nobel Peace Prize, then . . .
Woody Allen deserves the Loyalty to Family Award.
Exxon deserves the World Wildlife Fund Preservation Award.
Bill Clinton deserves the St. Francis of Assisi Piety Award.
Billy Crystal deserves the American Gothic Straight Face Award.
Winston Churchill deserves the Silence is Golden Award.
Barry Bonds deserves the Cy Young Award.
Las Vegas, Nevada deserves the American Puritan Founders Award.
Saddam Hussein deserves the Mother Teresa Character Award.
Bob Dylan deserves the Operatic Tenor of the Year Award.
Adolf Eichmann deserves the Conscience of the Century Award.
Mikhail Baryshnikov deserves the Klutz of the Year Award.
Kareem Abdul Jabar deserves the Willie Shoemaker Award.
Robert Downey, Jr. deserves the "Just Say No" Award.
Imelda Marcos deserves the Salvation Army Volunteer of the Year Award.
Franz Kafka deserves the Clarity Is My Weakness Award.
Nikita Kruschev deserves the annual Miss Manners Award.
Bill Romanowski, Denver Bronco, deserves the Good Sportsmanship Award.
Lenny Bruce deserves the League of Women's Voters Political Correctness Award.
Ku Klux Klan deserves the ADL In Praise of Pluralism Award.
Louis Farrakhan deserves the National Conference of Community and Justice Citizen of the Year Award.
William Faulkner deserves the Brevity is the Soul of Wit Award.
Golda Meir deserves the Stay-at-Home Mother of the Year Award.
Richard M. Nixon deserves the Abraham Lincoln Award for Integrity.
Warren Harding deserves the Cal Ripken Endurance Ward.
Leonid Brezhnev deserves the Elvis Presley Award for Innovation and Creativity.

And in 2001, posthumously . . .
Herbert Hoover wins the Nobel Prize for Economics.
Babe Ruth wins the Nobel Prize for Physics.
Lucille Ball wins the Nobel Prize for Literature.

Oh yes, one final matter: To emphasize the enduring significance of the Nobel Peace Prize, the Nobel Committee re-awarded the Peace Prize to that former recipient whose post-prize accomplishments have done more for peace than any other living recipient:

Yasir Arafat.
---
JWR contributor Rabbi Hillel Goldberg is executive editor of the Intermountain Jewish News. Comment by clicking here.

© 2001, Rabbi Hillel Goldberg