[ J E W I S H L I V I N G ]
The Jewish Ethicist
By Rabbi Dr. Asher Meir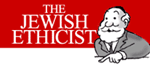 Dispute resolution: Is it a threat or a promise?


The Promised Land





Jordan "Gorf" Gorfinkel's Jewish Gen-X serialized strip


The classic comic strip serial focuses its attention on the battle of religiosity versus modernity. (UPDATED DAILY)





[ D A I L Y I N S P I R A T I O N ]


WISDOM EACH DAY: Start your day off right with words that will speak to your heart and soul. (NEVER TRIED THIS FEATURE? YOU DO NOT KNOW WHAT YOU ARE MISSING!)




[ L I F E S T Y L E S ]

Bruce Williams on JWR: Example of air travel safety; renting as a waste of money; defaulting on a credit card

Dr. Ed Blonz: Are gums toxic?; What is surimi?




[ I N S I G H T ]



Barbara Amiel: The West is fighting to rescue Islam, not destroy it (SUPERB!)

Jonah Goldberg: I am an Islam 'hater'

Richard Perle: Don't delay missile defense

Bill Tammeus: Many paradoxes in life

Kathleen Parker: Gimme one war, hold the casualties

Jules Witcover: Putting the cart before the horse?

Iain Murray and Howard Fienberg: Halloween nightmares

Betsy Hart: Doing what it's supposed to do

Bob Greene: The question that is painful to think about

Ian Shoales: My irony

David Limbaugh: America's media detractors (EXCELLENT!)

MUGGER: America's hangover sets in

Philip Terzian: A helluva town?

Don Feder: Fates of America and Israel intertwined

Paul Greenberg: We're on the way to airline security

Charles Krauthammer: Not enough might (OUCH!)

Michelle Malkin: Of Halloween spoilsports and spiders

Linda Chavez: Media aiding terrorists

Chris Matthews: Bush's command impresses supporters and critics

Walter Williams: Elitist contempt for American values





[ W O R T H 1 0 0 0 W O R D S ]

Mallard Filmore

Lola

Bound and Gagged

Mixed Media

John Deering

Jack Higgins

Jeff Koterba

Mike Shelton

World Editorial Cartoon Showcase: From Australia

Michael Ramirez

(Att. working columnists and editorial cartoonists: Think you have what it takes to be featured on JWR? Drop us a note. And readers: We're always open for suggestions!)



[ F A S T P O L I T I C S&nbsp ]








require ("t-ssi/rtorah.html"); ?>