[ J E W I S H L I V I N G ]
Alfred Mordecai, military scientist
By Michael Feldberg



Some American Jews have left an indelible, if now nearly forgotten, mark on the nation's history. Alfred Mordecai was one such individual. He introduced scientific methods into the development of pre-Civil War American military munitions.


This Larry David show is about something --- "Larry David"
By Catherine Seipp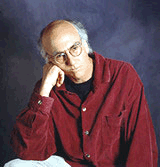 While "Seinfeld" was also tacitly about a Jew's-eye view of life, "Curb Your Enthusiasm" ramps that up several notches. Larry David's constant, silent scream about other people and their infuriating ways (always at a seethign roil on "Seinfeld") erupts each episode into personal disasters of surreal proportions.


The classic comic strip serial focuses its attention on the battle of religiosity versus modernity. (UPDATED DAILY)





[ D A I L Y I N S P I R A T I O N ]


WISDOM EACH DAY: Start your day off right with words that will speak to your heart and soul. (NEVER TRIED THIS FEATURE? YOU DO NOT KNOW WHAT YOU ARE MISSING!)




[ L I F E S T Y L E S ]

Bruce Williams on JWR: The mysterious safe-deposit key

Dr. Ed Blonz: Are breakfast cereals good for you?




[ I N S I G H T ]



Jimmy Breslin: Hero Husband Found at Last (FROM THE MASTER!)

Robert R. Butterworth: When fantasy is deadlier than reality

Michelle Malkin: No more jury trials for terrorists

Michael Barone: The second front

Mort Kondracke: Airplanes remain potential weapons for terror groups

Kathleen Parker: War puts truth back in vogue

Jules Witcover: Senatorial bravado

Diana West: This war is more than Afghanistan

David Limbaugh: Being realistic about the enemy

MUGGER: The permanent coalition

John Fund: Chicken Pox: Hardly anyone has anthrax, but almost everyone has anthrax anxiety

Don Feder: Israel shows danger of being U.S. ally

Linda Chavez: The real problem isn't how foreign-born security workers dress or whether they wave the American flag

Wesley Pruden: America stands up for the long count

Paul Greenberg: Naipaul's Nobel: the eye of exile

Jonah Goldberg: Is Islam the problem?

Walter Williams: What's wrong with education?





[ W O R T H 1 0 0 0 W O R D S ]

Mallard Filmore

Lola

Bound and Gagged

Mixed Media

Gary Brookins

Jeff Koterba

Gary Varvel

World Editorial Cartoon Showcase: From Iran

Michael Ramirez

(Att. working columnists and editorial cartoonists: Think you have what it takes to be featured on JWR? Drop us a note. And readers: We're always open for suggestions!)



[ F A S T P O L I T I C S&nbsp ]








require ("t-ssi/rtorah.html"); ?>