[ J E W I S H L I V I N G ]
The Jewish Ethicist
By Rabbi Dr. Asher Meir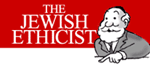 Ethics and telemarketing


If the UN deserves the Nobel Peace Prize, then ...
By Rabbi Hillel Goldberg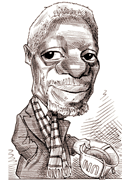 The United Nations has won the Nobel Peace Prize. Congratulations!
With the Nobel award to the UN, hope springs eternal. Now, the most deserving individuals or groups -- so long and unjustly overlooked -- have a chance. If the UN deserves the Nobel Peace Prize, then . . .


The classic comic strip serial focuses its attention on the battle of religiosity versus modernity. (UPDATED DAILY)





[ D A I L Y I N S P I R A T I O N ]


WISDOM EACH DAY: Start your day off right with words that will speak to your heart and soul. (NEVER TRIED THIS FEATURE? YOU DO NOT KNOW WHAT YOU ARE MISSING!)




[ L I F E S T Y L E S ]

Consumer Reports on JWR: Choosing a CO alarm

Dr. Peter Gott: What is syndrome X?




[ I N S I G H T ]



Stanley Crouch: The media, where threats to flesh and blood have little meaning

Martin Peretz: When America-haters become Americans (WOW!)

Bill Schneider: The new political world

Clarence Page: Terrorists threaten urban recovery, too

Mitch Albom: Terror is sugar-free

Thomas H. Lipscomb: BLOWBACK! (EXCELLENT!)

Robert Tracinski: The economics of war

Michael Ledeen: Creative Reporting: Learning to appreciate press briefings

Linda Bowles: Armageddon?

Bob Greene: Their weapon is not terror -- it is freedom (FANTASTIC!)

Frank Gaffney: Getting history, and the future, right

Jack Kemp: Good out of evil

Chris Matthews: Fear itself

Cal Thomas: Bishop doesn't think Islam is peaceful (IMPORTANT!)





[ W O R T H 1 0 0 0 W O R D S ]

Mallard Filmore

Lola

Bound and Gagged

Mixed Media

Mike Lukovitch

Mike Shelton

Gary Varvel

John Deering

Michael Ramirez

(Att. working columnists and editorial cartoonists: Think you have what it takes to be featured on JWR? Drop us a note. And readers: We're always open for suggestions!)



[ F A S T P O L I T I C S&nbsp ]








require ("t-ssi/rtorah.html"); ?>