[ J E W I S H L I V I N G ]
Moses Michael Hays:
'A Most Valuable Citizen'
By Michael Feldberg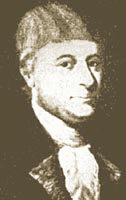 While some colonial Jews experienced difficulty living both as Jews and Americans, Boston's Moses Michael Hays created a different experience. Boston's most prominent 18th-century Jewish citizen, Hays set a high standard for civic leadership and charity. Without the companionship and support of an organized Jewish community and without legal guarantees of religious freedom, Hays thrived in the "first circles" of Boston society while publicly practicing his Judaism.


Simple, stylish salmon
By Ethel G. Hofman


Our gourmet, the former president of the International Association of Culinary Professionals, whose members include the likes of Julia Child, is back with some scrumpious recipes. Kosher cooking at its finest, folks.


The classic comic strip serial focuses its attention on the battle of religiosity versus modernity. (UPDATED DAILY)





[ D A I L Y I N S P I R A T I O N ]


WISDOM EACH DAY: Start your day off right with words that will speak to your heart and soul. (NEVER TRIED THIS FEATURE? YOU DO NOT KNOW WHAT YOU ARE MISSING!)




[ L I F E S T Y L E S ]

Consumer Reports on JWR: Exotic ingredients do very little for soaps

Dr. Peter Gott: Reflux may respond to antacids; spinal cord stroke




[ I N S I G H T ]



Bob Greene: A place that reminds us: We can do anything

S. Frederick Starr: Afghan Northern Alliance makes a dangerous friend (IMPORTANT!)

Alan Ehrenhalt: The Politics of a Hole in the Ground

Clarence Page: Sometimes, assassination warranted

James K. Glassman: The Battle of Biotech

Paul Greenberg: Pentagon may be best lead agency in bioterror war

Suzanne Fields: 'Officer Friendly' in the sky and on the land

Bob Tyrrell: Is bin-Laden propaganda from Western intelligence?

George Will: A 'Niagara of ideas' fights distractions to voters

Larry Elder: Post-September 11: Another look at guns and racial profiling

Ann Coulter: Mothers Against Box Cutters speak out

Cal Thomas: Arafat as political welfare queen

Thomas Sowell: Do facts matter?





[ W O R T H 1 0 0 0 W O R D S ]

Mallard Filmore

Lola

Bound and Gagged

Mixed Media

Jack Higgins (NEW CONTRIBUTOR!)

Jeff Stahler

Wayne Stayskal

John Deering

Mike Lukovich

Gary Varvel (FANTASTIC!)

Michael Ramirez

(Att. working columnists and editorial cartoonists: Think you have what it takes to be featured on JWR? Drop us a note. And readers: We're always open for suggestions!)



[ F A S T P O L I T I C S&nbsp ]








require ("t-ssi/rtorah.html"); ?>