[ J E W I S H L I V I N G ]
WE WERE HAD!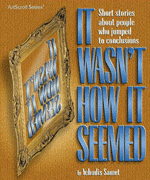 We've all done it. Jumped to conclusions, that is. JWR presents excerpts from a book edited by Rebbetzin Yehudis Samet of Jerusalem, where folks come clean anonymously in an effort to remind the rest of us to give others the benefit of the doubt. Of course, we've all heard the expression. But this true tale makes the necessity come alive.


LONDON DIARIST
Arafat to the rescue
By Helen Davis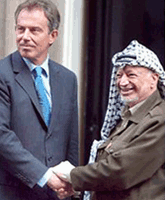 In the current circumstances, Arafat knows that when he speaks to Blair he is also speaking to Bush. And when he hears Blair's voice, he is probably hearing the voice of George W. Bush with a middle-class British accent. And if Arafat used the language that London and Washington were yearning to hear, the British leader returned the compliment in spades.


The classic comic strip serial focuses its attention on the battle of religiosity versus modernity. (UPDATED DAILY)





[ D A I L Y I N S P I R A T I O N ]


WISDOM EACH DAY: Start your day off right with words that will speak to your heart and soul. (NEVER TRIED THIS FEATURE? YOU DO NOT KNOW WHAT YOU ARE MISSING!)




[ L I F E S T Y L E S ]

Consumer Reports on JWR: What's worth fixing or forgetting

Dr. Ed Blonz: Is it all about the money?




[ I N S I G H T ]



Steve Young: Diary Of A Young Defense Department Comedy Writer

John Ziegler: Let's not overestimate these terrorists

Fred Barnes: A Different Kind of War President: The compassionate commander in chief.

Lewis A. Fein: Guilt and Indifference in the Arab World

Michael Barone: By silence betrayed

Diana West: Whose definition of terrorism?

Mitch Albom: The army of the in-between

Bill Schneider: The return of big government

Michael Long: Questions for the Anti-War Crowd: If they question you, ask these back (MUST-READ!)

Linda Bowles: We're learning a lot about ourselves

Jules Witcover: New York mayor's race: What kind of experience?

Philip Terzian: A patriot for me

Doug Bandow: First, do no harm

Jack Kemp: Watching Iraq

Frank J. Gaffney: Farewell to arms control

Marianne M. Jennings: A touch of class

Paul Greenberg: Advice from the past

Michael Medved: Can Hollywood change its ugly version of USA? (FANTASTIC!)

Betsy Hart: Will war finally end Political Correctness?

Chris Matthews: Let's stop living in the dark (HUH!?)

Cal Thomas: President Bush: From weak man to Incredible Hulk

Thomas Sowell: Barry and the Babe





[ W O R T H 1 0 0 0 W O R D S ]

Mallard Filmore

Lola

Bound and Gagged

Mixed Media

Jack Higgins (NEW CONTRIBUTOR!)

Jeff Koterba

Mike Shelton

Mike Lukovich

Gary Varvel

Bob Gorrell

Michael Ramirez

(Att. working columnists and editorial cartoonists: Think you have what it takes to be featured on JWR? Drop us a note. And readers: We're always open for suggestions!)



[ F A S T P O L I T I C S&nbsp ]








require ("t-ssi/rtorah.html"); ?>