[ J E W I S H L I V I N G ]
Divide and Conquer: The war on terror is just, but Powell's efforts to isolate Israel are not
By Jonathan Tobin




Rather than draw conclusions from facts, Powell chose to use the post Sept. 11 period to reward Arafat for his own terror policy and further isolate Israel.


Hollywood finds
truth in cloning
By William J. Bennett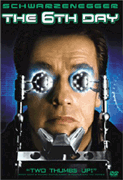 This Sabbath's Torah portion included the Genesis narrative. These days, films almost always treat serious moral questions as nothing more than academic debates. Kudos, then, to The 6th Day , an action-adventure flick that, despite some gratuitously violent scenes, takes serious matters seriously.


The classic comic strip serial focuses its attention on the battle of religiosity versus modernity. (UPDATED DAILY)





[ D A I L Y I N S P I R A T I O N ]


WISDOM EACH DAY: Start your day off right with words that will speak to your heart and soul. (NEVER TRIED THIS FEATURE? YOU DO NOT KNOW WHAT YOU ARE MISSING!)




[ L I F E S T Y L E S ]

Bruce Williams on JWR: Getting your credit report; Private Mortgage Insurance ; Are those ads on TV about help with IRS debt legitimate?

Dr. Peter Gott: Informed consent is a must before surgery; Circumcision for man over 70?




[ I N S I G H T ]



Jeff Jacoby: Rush Limbaugh's ear (EXCELLENT!)

Clarence Page: Self-censorship rises again

Debra J. Saunders: I was a 'McCainiac,' and I have seen the light

Catherine Seipp: Gilligan's Island vs. the Taliban (MUST-READ!)

Jules Witcover: New York: Making a comeback

David Limbaugh: Toward freedom from religion

Jonah Goldberg: Time to return to colonialism?

Nat Hentoff: Ariel Sharon spoke to the facts

Kathleen Parker: Love thine enemies to death

Dave Shiflett: The Other Shoe: Waiting

Bob Greene: From a widow, words as soft as moonglow (FANTASTIC!)

Michael Ledeen: Rediscovering American character

Don Feder: Shooting snakes while supporting snake farms

Wesley Pruden: Here's a recipe for an Afghan Christmas

John Leo: Radical cultural relativism leaves some blind to evil

Mort Kondracke: Stimulus plan should target holiday sales

Suzanne Fields: From the halls of Montezuma to the caves of Afghanistan

George Will: A Different FBI?

Mona Charen: Power wielding ignorant news executives

Bill O'Reilly: Peace, but no quiet

Cal Thomas: Achieving homeland security is everyone's responsibility





[ W O R T H 1 0 0 0 W O R D S ]

Mallard Filmore

Lola

Bound and Gagged

Mixed Media

Jeff Koterba

Mike Lukovich

Gary Brookins

Gary Varvel

John Deering

Michael Ramirez

(Att. working columnists and editorial cartoonists: Think you have what it takes to be featured on JWR? Drop us a note. And readers: We're always open for suggestions!)



[ F A S T P O L I T I C S&nbsp ]








require ("t-ssi/rtorah.html"); ?>