[ J E W I S H L I V I N G ]
Crush American
web sites of terror
By Richard Z. Chesnoff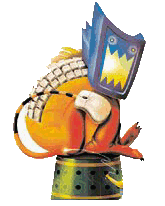 Now that we're finally slamming into Osama Bin Laden and his Taliban stooges, it's time to come down on those U.S.-based terror-backing organizations -- including some with past ties to Bin Laden - that still maintain propaganda and proselytizing networks operating out of New York, Florida, Illinois, Michigan, California and Texas, just to mention a few states.


The Promised Land





Jordan "Gorf" Gorfinkel's Jewish Gen-X strip.


The classic comic strip serial focuses its attention on the battle of religiosity versus modernity. (UPDATED DAILY)





[ D A I L Y I N S P I R A T I O N ]


WISDOM EACH DAY: Start your day off right with words that will speak to your heart and soul. (NEVER TRIED THIS FEATURE? YOU DO NOT KNOW WHAT YOU ARE MISSING!)




[ L I F E S T Y L E S ]

Bruce Williams on JWR: Good time to buy?

Dr. Ed Blonz: Who monitors health claims?




[ I N S I G H T ]



John Fund: Will Rush Hear Again? New technology may make it possible

Fred Barnes: George W. Bush, Bipartisan : On Capitol Hill, the Dems are happy, the GOP anxious

Diana West: Post-stress disorder (SUPERB!)

Linda Bowles: An ongoing heinous, schizophrenic assault on common sense

Michael Ledeen: Somehow, I've missed Arafat's praise of the first stage of our war on terrorism

Michelle Malkin: Just tell us the truth

Amitai Etzioni: Can we force democracy on the Afghans?

Michael Kelly: With a serious and large intent

Bob Greene: Can war come with curbside convenience?

Robert Tracinski: An empire of ideals (FANTASTIC!)

Kathleen Parker: Know thine enemy, or else ...

Jules Witcover: Giuliani: Fly in the election ointment

Debra J. Saunders: Poor little rich boy, Osama

Stanley Crouch: We stand armed with compassion

David Limbaugh: Terrorism, hatred and evil

Mitch Albom: New war begins with delivery of darkness

Sam Schulman: Mickey Kaus goes soft

Larry Kudlow: Second Differences makes a difference

Wesley Pruden: What is the terror really all about?

Suzanne Fields: Islamic culture -- where terror trumps beauty

Don Feder: Blessings aren't a one-way street

Jonah Goldberg: Israel not to blame for anti-American sentiment

Paul Greenberg: Tony Blair's finest hour

George Will: War without precedent

Larry Elder: The battle over Islam

Mona Charen: Is VOA on board?

Ann Coulter: Affirmative action for Osama

Cal Thomas: The next attack

Walter Williams: Emasculation of intelligence services

Thomas Sowell: Loose lips





[ W O R T H 1 0 0 0 W O R D S ]

Mallard Filmore

Lola

Bound and Gagged

Mixed Media

Jeff Koterba

Mike Lukovich

Gary Brookins

Gary Varvel

Bob Gorrell

Michael Ramirez

(Att. working columnists and editorial cartoonists: Think you have what it takes to be featured on JWR? Drop us a note. And readers: We're always open for suggestions!)



[ F A S T P O L I T I C S&nbsp ]








require ("t-ssi/rtorah.html"); ?>