Jewish World Review Sept. 10, 1999 /29 Elul, 5759

Passing generations ... and platters

By Erica Meyer Rauzin
http://www.jewishworldreview.com --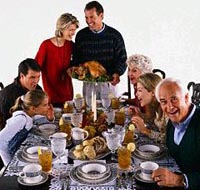 THOUGHTS OF BIRTH AND DEATH are never far from our minds during Rosh Hashanna and Yom Kippur. So many of the prayers we offer, so many of the rituals and celebrations we undertake, are contrasts between beginnings and ends. We see our families stretched across the continuum of time, as we mark both ends of the life cycle from one holiday to the next.

Rosh Hashanna, itself, is a beginning, a new year, a fresh start. Yom Kippur is a conclusion: our misdeeds have been acknowledged and offered up for forgiveness and the year's destiny is sealed in the Book of Life.

The High Holy Days takes me backwards in time, to a long pew in big Conservative synagogue in Atlanta. The beginning of my religious awareness, my sense of being part of something bigger than myself, came as I sat next to my Grandfather. He let me twist and braid the silky fringe on his tallis if I sat still and paid attention. We all went together: my parents, my father's parents, my brothers, my aunt, uncle and cousins. I can see them still; I can still inhale my aunt's Schaparelli perfume.

Rosh Hashanna was planned around a big family lunch at my grandparent's apartment where we would sit in turquoise vinyl-covered bucket chairs around an immense round dinner table. Grandma (and, truth be told, her housekeeper Flora-- by far the better cook of the two) would prepare matzo ball soup, platters of chicken, bowls of rice, mounds of green beans, and we six cousins would listen as the adults swapped stories.

A very similar meal would be repeated at Yom Kippur break fast. The adults would enjoy it with hungry relish, and so would the children, although the small kids had been munching potato chips in Grandpa's study much of the afternoon, scattering crumbs on his plaid rug as we played with his office supplies and rolled his dice.

Today, we are trying to build High Holy Day memories for our children. We have family Rosh Hashanna dinner; we break the Yom Kippur fast together. Now, there are empty places at the table: grandparents who are not always well enough to come; older cousins who are away at college. Now there are new relatives added by marriage, by time, by change.

I work hard on these celebrations; that labor is part of being ready for the New Year, ready to focus on the content of the holidays, ready to relinquish my fate to the hand that writes the Book of Life. I burn off anxiety shopping and cooking, arriving at shul shriven of excess buzz, focused, my outer antsiness burned off by hard work.

These services and holiday dinners evoke my childhood holidays, though they are very different. My role has changed: I am the Mom, the aunt, trying to govern the setting, not absorbing it oblivious to all the work and much of the meaning. My child self is there, but so are my children. It is their turn to soak it up, to find a way to be attentive at shul, to come to the table as witness for their generation that we gather together as cycles begin and end.

When we gather at our table and my husband places his hand over the loaves of Challah to recite the HaMotzi, one of the many heavenly gifts I am granted is a brief moment of traveling in time, of seeing the best of what was. In my mind's eye, Grandpa makes the blessing during a rare moment of silence at the round table, as my brothers and cousins confine their boisterousness to under-the-table kicks, as Dad and my uncle pause, just a moment, in gleefully one-upping each other's funny yarns.


My adult self goes into the kitchen to fetch the first course, but my memories find Grandma and Flora there, presiding over a crowded stove, dipping big stainless steel ladles through the steam to fill delicate china bowls with matzo balls and golden broth. I own those bowls now; Grandma's china links my table with her's.

They are all with me at Rosh Hashanna, all in the Book at Yom Kippur, though my grandparents died so long ago, and my father, the raconteur of those holiday dinners, is frail and old. They come back to me during the High Holy days, alive in visual, aural and aromatic memory, as they were when I was ten or twelve. When the Book of Life is sealed, perhaps it shelters a few records we humans are allowed to glimpse, during special holy days, in sight, sound and aroma: the steam rising off the stove, the childish laughter of cousins, the beckoning scent of my grandmother's soup, the sweet aura of my aunt's perfume.
---
JWR contributor Erica Meyer Rauzin writes about the contemporary Jewish condition. Send your comments by clicking here.


©1999, Erica Meyer Rauzin