Jewish World Review Sept. 7, 1999 / 29 Elul, 5759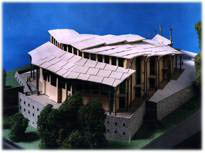 The new Breslov synagogue
Chana Shavelson
At gravesite of a Hasidic master, a 5,000-person shul rises

UMAN, UKRAINE, a city of a few hundred Jews where people bring their own needles to hospitals and running water can be found in most homes for only a few hours a day, will soon have one of the world's largest synagogues, accommodating 5,000 people.
Why Uman? The city is the site of a mass pilgrimage of over 7,000 Jews of all stripes who come yearly at Rosh Hashanah to visit the grave of Rabbi Nachman of Breslov.
Until now, pilgrims rented beds in apartments or homes at $10 to $20 a night, and attended services in a large factory that cost the Breslov World Center $30,000 to $40,000 a year. Airfare from America to Uman is about $800, and from Israel, where the Breslov center is located and where the majority of the world's Breslovers live, about $600.

The total cost of the project, estimates Rabbi Nasan Maimon, executive director of the Breslov World Center and Rosh Kollel of the Central Breslov Yeshiva in Jerusalem, is $4 to $5 million — a pittance compared to what a similar project would cost in the United States or Israel. Construction of a gargantuan center for Belzer hasidim currently underway in Israel, he notes, will run about $15 million.
But apart from the bargain factor, why set up a yearlong facility in the heart of nowhere? Although Uman itself boasts only a few hundred Jews, "in the surrounding shtetlach [villages]," says Maimon, they number in the thousands, and in Ukraine itself, there are approximately 300,000 to 500,000 members of the tribe.
In the past, "on one foot and one toe," jokes the Breslov Center executive director, with only two or three year-rounders, the small city has hosted upwards of 300 Russian Jews for Purim and 20 to 30 on some Shabbats. Now, 10 "handpicked" couples will live in Uman year-round to run the outreach center — which will cost about a tenth of what running such a facility would cost elsewhere, according to Maimon — and to maintain the center's vast facilities, which will include ground-floor mikvahs or ritual baths to accommodate the thousands of pilgrims who descend upon Uman at Rosh Hashanah, and another floor for hospitality and Jewish classes and programs.
As far as the local non-Jewish population is concerned, the new Breslov industry will be a boon. For not only will yearly apartment and home rentals, which for most people rack up the clear equivalent of an annual salary, be secured, but the local economy will benefit as well. Although world-class Israeli architect Moshe Margolis is responsible for the broad strokes of the project, all the designers and construction workers can be found among Uman natives.

Another goodwill gesture aimed at winning over the residents of this avowedly anti-Semitic and backward region, relates Maimon, has been the recent shipment of $30,000-worth of medicine and medical equipment. "Ninety-eight percent of the people we deal with are helpful because they benefit," he states. "We create a lot of jobs and a lot of money," and today, "the Ukrainian goverment is very much for this."
Like the notoriously optimistic Breslov philosophy that teaches that the key to G-d can be found in every Jew's heart, and that the Creator is only as far as we make him in our troubles, glitches in the center's construction have been myriad — and overcome. The center will be completed in the next two years, and one day, Maimon speculates, perhaps another shul for 10,000 to 15,000 will be built.
Not bad for a Hasidic movement without a leader — or at least a live one.
According to Maimon, Rabbi Nachman's main student, Rabbi Nosson, "didn't feel qualified to take the title of rabbi, bacause a rabbi has the authority to change what an earlier rabbi taught." Rabbi Michel Dorfman, at 86 the world's oldest Breslover hasid and the man responsible for opening Uman to the West eight years ago, calls himself "a student of Rebbe Nachman.
Breslov has become something of a fluid tradition, its permeating philosophy of joy and connection to G-d attractive to Breslovers and non-Breslovers alike.


For many, the call of Breslov is irresistible. Edward and Barbara Guzovsky of Milton, Massachusetts for example, have made a substantial contribution to the construction project in honor of Edward's mother, Miriam (Eigel) Guzovsky, 98, of Breslover stock.
And Michael Perlman, of Northampton, who says he is "not a card-carrying Breslover, but in my heart I am," every year travels to Uman to reune with son Adam, of Bat Ayin, Israel. For both, "it's like going back to camp," says Perlman, who describes the atmosphere there as "electric."
"The Breslovers, themselves, I love, and it's a privilege to spend a week with them," enthuses the 59-year-old psychiatrist, who says he is bothered by neither the toiliets that flush only half the day nor the chilly mikvah that got hot water only last year. "Everything else makes it worth it. ... The Breslov tradition is a hidden treasure."
Dov Ber Marchette, a Brighton, Massachusetts resident and kosher supervisor at Zaatar's Oven of Brookline, leads the yearly Massachusetts contingent to the Ukrainian city. Marchette and his wife, Esther Leah, run the Boston Breslov Connection, which hosts events, Shabbatons and lectures all year-round, as well as a five-week yeshiva featuring Jerusalem's Rabbi Gedalia Fleer just after the festival of Sukkos, Tabernacles.
Each year, Marchette rustles up some five to ten odd people to go with him to Uman to spend Rosh Hashanah with Rebbe Nachman, who always impressed upon his followers in his lifetime the importance of spending the holiday with him.
Why is Marchette so bent upon spending the Jewish new year with this motley crew?
"I'm a bum," says the Brighton man good-heartedly, "but I lift myself up and give something back to the world. Every year I benefit from that vital lifting, and I bring it back to my family."
---
Chana Shavelson is a staff reporter for Boston's Jewish Advocate.


©1999 The Boston Jewish Advocate