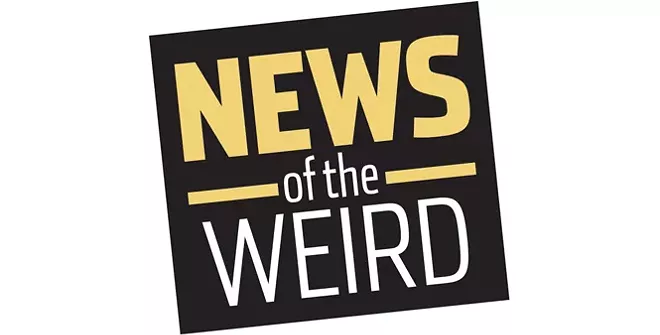 •
Kyle McAleer, 20, a Chicago Cubs fan from Iowa, adopted a goofy "rally cap" idea from former Cubs player Starlin Castro a few years ago -- a plastic bucket.
But no one's laughing now: As McAleer and his family watched a game from seats under Wrigley Field's manual scoreboard on July 24, a 6- to 8-inch metal pin fell out of the board and onto McAleer's head, where he had only moments earlier secured the bucket.
Although he suffered a cut requiring five staples, McAleer is crediting the bucket for saving his life: "It might have fractured my skull. It definitely could have been fatal. I am extremely lucky," he told the Associated Press.
Cubs spokesman Julian Green said the incident has been ruled an accident, not a structural issue, and the team has sent McAleer some swag, including a jersey. [Associated Press, 7/31/2018]
• During a July 23 debate among mayoral candidates in Key West, Florida, Sloan Bashinsky, a perennial contender, took a minute to answer a call from G od. "Hello? What? G od?" Bashinsky said, speaking into his cellphone.
According to FLKeys News, it wasn't the first time he's heard from a higher power: "I have said every time I ran, I ran because G od told me to run," Bashinsky explained. "I think anyone who wants this job is insane."
Bashinsky has a law degree from Vanderbilt University and was once among the island's homeless. He joins six other candidates on the ticket. [FLKeys News, 7/24/2018]