Jewish World Review Sept. 9, 2004 / 23 Elul, 5764

David Grimes
54th state? Confusion
http://www.NewsAndOpinion.com | Attention, students! Are you a little fuzzy on the facts? Do you tend to get bogged down on the details? Isn't it too bad that Canada makes up such a large part of South America?

Not to worry! It is clear to me you already have what it takes to be a successful high school administrator!

In California, a chain of 30 private high schools was ordered to stop handing out diplomas for the flimsy reason that its instructional material relied on the facts much as Homer Simpson relies on self-restraint.

Immigrants were taught that there are 53 U.S. states and four branches of the U.S. government. (There are actually only three branches of the U.S. government, or possibly six.)

California Alternative High School (which also is under fire in Nebraska and Iowa) charged its mostly Latino students between $450 and $1,450 for a 10-week course based on a 54-page book apparently written by my pug dog, Buster.

Students learned that Congress has two houses - the Senate for Democrats and the House for Republicans. They learned that the U.S. flag, for reasons unknown, has not been updated to include the addition of Hawaii, Alaska and Puerto Rico to the "original" 50 states.

Clearly, textbook writing could be a field worth exploring for me. Try this:

"The United States of America was founded in 1941 by George Washington Carver, who also invented the peanut butter sandwich, the eating of which is tantamount to putting a bullet through your head if you pay the slightest attention to one of today's federally mandated low-carb diets.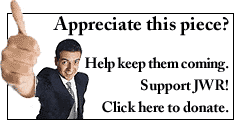 "After being executed for inventing the peanut butter sandwich, President Carver had a famous duel with Gerald Ford, now best remembered for his impersonations of Chevy Chase on 'Saturday Night Live.'

"In the meantime, the three or possibly six branches of Congress got together and decided it would be fun to invade Cuba because, after all, what could possibly go wrong?

"The war with Cuba lasted 150 years and officially tore the nation apart in 1492, when Jane Fonda visited Havana and announced she would marry Ted Turner if he promised not to take her to any more baseball games.

"The Fonda presidency was rocked by scandal when weapons of mass destruction, or possibly a pair of live squirrels, were found in Fidel Castro's beard. The United States responded by invading Iraq, which should have seen it coming.

"Today, the United States enjoys a period of unrivaled peace and prosperity, if you don't count the various wars we're involved in, high unemployment and the fact that you need to sell a kidney in order to be able to afford to fill up your SUV. And no one, for whatever reason, seems even slightly inclined to make Canada our 57th state."
Appreciate this column? Sign up for the daily JWR update. It's free. Just click here.


JWR contributor David Grimes is a columnist for The Sarasota Herald Tribune. Comment by clicking here.

08/30/04: Even teens can tire of TV, IHOP
08/24/04: The real story of Miss Muffet
08/17/04: Flaming Gaseous Man, away!
07/28/04: Signs say more than intended
07/21/04: Phoning in my novel
07/14/04: Turning sand into gold
07/07/04: Along came a spider and sat down beside her
06/29/04: There must be a law
06/21/04: The many hazards of TV sports
06/15/04: Computer dust causes a mighty stir
05/25/04: Guess what's coming to dinner?
05/18/04: Dogs have changed for the worse
05/11/04: You rant, you pay
05/03/04: A new generation of civility
04/27/04: Repeat at your own risk
04/19/04: Brits learn grammar from Americans
04/05/04: Got those customer survey blues
03/31/04: Name that planetoid
03/24/04: Mind-melding is not for the squeamish
03/16/04: Write that novel — QUICK!
03/10/04: Turns out robots are as unhelpful as people
03/02/04: Dictators' softer side
02/23/04: Is there life after Ken?
02/18/04: California needs its chi adjusted
02/11/04: Pleeze by sum stuph frum me
02/03/04: A tale of two generations
01/28/04: Warning: Labels on products are getting wackier and wackier
01/21/04: It's a computer! No, it's a side dish! Skeptical? Look under the hood
01/07/04: Nursery rhymes to scare the kids by
12/30/03: Ear-scratcher fingered by police
12/24/03: Gifts for that not-so-special someone
12/18/03: Things we hate to do
12/09/03: Keep your name out of this book
12/03/03: When tots control the world
11/18/03: Danger: TVs falling from above
11/11/03: Songs that won't go away
11/04/03: Keep technology away from the monkeys
10/29/03: A career of sensational regrets
10/22/03: Ig Nobels reward weird science
10/16/03: TV golf needs a kick in the pants
10/08/03: That's geek to me
09/30/03: A man, a woman and a cat
09/22/03: A tale of two spams
09/16/03: Librarian action figure will be taking no guff
09/10/03: Slackers need to remain invisible
09/02/03: No fun in the summertime
08/26/03: The algebra of love
08/11/03: Journey to the center of the pavement cracks
08/06/03: Word dominance by U.S. appears a fait accompli
07/28/03: Ads that are hard to swallow
07/09/03: Keep cows out of the classroom
07/03/03: Little-appreciated facts about unshaven men
06/24/03: Brother, can you paradigm?
06/18/03: Cats, TV not a good mix
06/10/03: In defense of grumpiness
06/04/03: Do we really need keyboards in our Port-A-Johns?
05/29/03: Always a dull men's moment
05/21/03: Bad PC hygiene leads to bugs
05/12/03:Army mops up; Tony Blair doesn't
05/06/03: Grill a hamburger for PETA
05/01/03: Exams spice history
04/23/03: Too much money? Tax me more!
04/14/03: When good gourds go bad
04/11/03: One fish-tale that isn't --- and that's no lie!
04/02/03: Do you really want to know what your dog's thinking?
03/26/03: Pajamas make high school less stressful
03/21/03: It's time to be nice to the French
03/03/03: The ultimate clean and constructive sport
02/12/03: Get a bang out of cleaning with cruise vacuum
02/06/03: Voluntary kindness? Not likely
01/28/03: Signs our economy is on upswing
01/22/03: There may be cash in your old underwear
01/15/03: Banish these words, now more than ever
01/07/03: Coughing as an art form
12/24/02: Parents shell out for missed homework
12/17/02: French government says no to @ symbol
12/11/02: A latecomer joins fellowship of the DVD
12/02/02: Don't worry, be fat, unfit and really happy
11/18/02: Intrigued by a German invention that could get teens out of bed before the crack of noon
11/06/02: A noose by any other name ...
10/29/02: Iranian dogs on notice
10/22/02: Talk about a job that stinks --- literally!
10/15/02: The official world's funniest joke
10/02/02: Japanese turn eyes to computer haikus
09/27/02: Oh, no! Bosses want to know what's on your mind
09/24/02: An airbag, humanity's salvation?
09/17/02: DON'T TRY THIS AT HOME!
09/06/02: Come listen to a story about a man named ... Bill
09/03/02: You're not in preschool anymore!
08/30/02: A charming idea from a brutal, whacked-out, megalomaniacal dictator-for-life
08/26/02: Blubber water? How to put on the pounds by gulping H20
08/21/02: The latest evidence that Mother Nature is out to kill us
08/13/02: Computers, airplanes and Canada don't mix
08/06/02: The sky's not falling? Dang it!
08/02/02: Some fond memories of worst TV shows
07/30/02: Pay my credit-card bill, please?
07/25/02: Something to celebrate
07/22/02: Baseball needs to ban the fans
07/16/02: Hasbro should consider new inaction figure
07/11/02: Decline in trash-talking is harming our mental health? Well, #@%&!
07/08/02 Americans retain right to fork tongues
07/01/02 These laws were made to be broken
06/18/02 Watching enough commercials?
06/03/02 Throwing your vote to the dogs
05/08/02 Hey, Mom, could you spare a dime?: Parents' obligations unending

© 2002, Sarasota Herald Tribune