Jewish World Review Sept. 13, 2004 / 27 Elul 5764
Like old times
By Zev Chafets
The new fascism reunites one of history's great alliances
http://www.jewishworldreview.com | Three years after 9/11, the grand, anti-fascist coalition of World War II is now falling into place. First, it was America alone. Then Great Britain threw in. Now, here comes Russia.

It has taken three years because Moscow's impulse is always to cooperate with fascism. Stalin made this mistake in 1939 by signing a nonaggression pact with Hitler and woke up two years later with the German Army marching through Russia.

Vladimir Putin's government (and before it, Boris Yeltsin's government and successive Communist regimes) made similar miscalculations. Russia helped Iran with its nuclear program, sold weapons and supplies to Saddam Hussein and Baathist Syria and gave political support to the Palestinians - and hoped these good deeds would preserve it from fascist jihad.

Then Muslim holy warriors showed up at the schoolhouse in Beslan, and Putin underwent a battlefield conversion to the Bush Doctrine. "We have to admit that we showed no understanding of the danger occurring in our own country and the world," Putin told Russians after the massacre. Gen. Yuri Baluyevsky, chief of the general staff, promised to "liquidate" the terrorists "in any region of the world."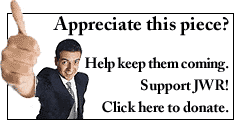 Great Britain's foreign secretary, Jack Straw, has pronounced this new Russian position "understandable." The White House agrees.

A few days after Beslan, Putin sent Foreign Minister Sergei Lavrov to Jerusalem. Lavrov talked with Prime Minister Ariel Sharon about strategic cooperation in what the Russian called "the worldwide struggle."

At the same time, the commander of the Indian Air Force turned up in Israel, too. India, like Russia, has traditionally tried to deflect the jihad by supporting it against Israel. But Delhi's policy began to change after Pakistan developed an Islamic A-bomb. When Pakistani-backed warriors instituted a post-9/11 campaign of mass killing in Kashmir, the Indians realized what Putin has now figured out - that "local" aggression is actually part of a worldwide war of Islamic imperialism.

Israel was a destination for Indian and Russian officials not because - as The Nation magazine and Pat Buchanan darkly imagine - the Elders of Zion run the world, but because in this war, as in WWII, Jew-hatred is the emotional epicenter of the fascist enterprise. As a result, publicly embracing Israel is a symbolic declaration of independence from the orbit of Islamic imperialism.

It is also a highly practical step. For countries like Russia and India (and the U.S. and Great Britain, too) Israel is a source of great military expertise in the art and science of jihad-busting.

The Muslim Axis, watching the old WWII alliance come together, has itself to blame. Attacking the children of Beslan was a terrible mistake, akin to Hitler's invasion of Russia. Clear, strategic thinking is not a fascist long suit.

Islamists cling to the hope the reconstituted alliance will prove ephemeral. They are cheered by the fact that France has not joined, forgetting that France, far from being an Allied power in WWII, was then - as now - a servile nonentity. Canada is the only serious defector, and that is more than balanced by the addition of Japan and Italy and Germany's passive-aggressive nonintervention.

The Big Three have reasons to hang together. Russia will not soon forgive the massacre of its children, and Putin, if he wants to remain a credible leader, must turn his words into warfare. Great Britain remains committed to the Anglo-American special relationship (and Tony Blair, despite warnings from the British left-wing press, has paid no political price for this; on the contrary, he continues to dominate his party and Parliament).

As for the U.S., it will fight until the threats and the ghosts of 9/11 are vanquished. The American public won't accept any less.
Every weekday JewishWorldReview.com publishes what many in Washington and in the media consider "must reading." Sign up for the daily JWR update. It's free. Just click here.
JWR contributor Zev Chafets is a columnist for The New York Daily News. Comment by clicking here.
© 2004, NY Daily News