Jewish World Review Sept. 24, 2002 / 18 Tishrei, 5763
HEBRON DIARIST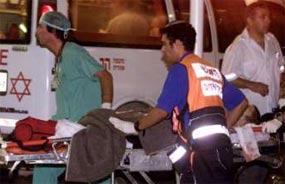 Shuki Shapira is taken to hospital
A different type of Sukkos shaking

http://www.jewishworldreview.com | As the first rays of sun cast their golden glow over the Judean Hills Monday morning, Shuki Shapira, 8, was already dressed in his holiday finery. It was Chol Hamoed Sukkos --- and it was also the first time he was the proud owner of a lulav and esrog, the special ritual objects of holiday.
Though off from school, Shuki made sure not to oversleep in order that he could accompany his father, Shlomo Shapira, to religious services, just as he often would do when the two secretly distributed food parcels to Jerusalem's poor.
He wanted to be "just like the adults."
Yehudah, his 12 year-old brother, in contrast, wanted the adults to be just like him. Well, at least his mother and sister.

Later in the day, the "men," including another son, Pinchas, 18, were going on a holiday outing to Hebron, where among other activities, would be an outdoor concert. Rivkah Shapira, the mother, was simply too busy. In less than two weeks, Sarah, the family's youngest daughter, would be wed. This year, the two would have to miss the annual family ritual.
It was 6:00 pm, when the foursome, after praying at the Cave of the Patriarchs and Matriarchs, walked past the shuttered shops in Hebron's Avraham Avinu quarter. Dusk was taking hold and they did not see the "Palestinian" terrorists lurking in the shadows of the narrow alleys. Within seconds, the Arabs opened fire with Kalashnikov automatic weapons. First, they took aim at Shlomo and then, unsatisfied with the direct hit, immediately began shooting at his sons.
Despite being near an Israel Defense Forces post, the terrorists successfully escaped, likely finding refuge in an nearby Arab home.
Shlomo, 48, died of his wounds almost immediately after arriving at Hadassah Medical Center in Ein Karem, Jerusalem.
Shuki, who underwent surgery for wounds to the hip and thigh, cannot use his lulav and esrog today, as the ICU equipment attached to his body will not allow him to. Instead of fulfilling the ritual of shaking the set, Shuki's body quivers in pain.
Following their father's midnight funeral at the Har Hamenuchas cemetery, brothers Yehuda and Pinchas are resting in "moderate" condition. They were transported by a mobile ambulance attached to their breathing machinery and fulfilled the Jewish mourning ritual of rending one's garments on their hospital-issued pajamas.
The moon shone down on them as they uttered the haunting words of the Kadish prayer.
The family will start their shiva period on Saturday night, after Simchas Torah. At the conclusion of the week-long mourning, they will visit Shlomo's grave. Two days later, they will attempt to escort Sarah to her Chupah wedding canopy.
— Harvey Tannenbaum
Appreciate this writer's reporting? Why not sign-up for the daily JWR update. It's free. Just click here.
Comment on JWR contributor Harvey Tannenbaum's dispatch by clicking here.

© 2002, Harvey Tannenbaum