[ J E W I S H L I V I N G ]
controversy!
There is only one way to establish a humane Middle East
By Binyamin Netanyahu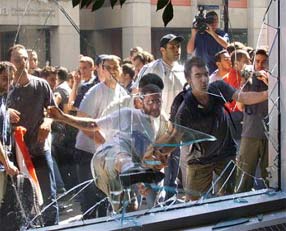 For those who missed it, former Israeli Prime Minister Netanyahu attempted to give a speech Monday at a Montreal college calling for, among other things, democracy to be embraced in the Middle East. Before he arrived, Arabs -- pictured above -- showed their love of free speech and the open exchange of ideas by going on a rampage. Mr. Netanyahu's speech was ultimately canceled due to safety concerns. We have reproduced his intended remarks here.




poetry
Observations along
the road of life
By Malky Farkas Treitel
Every so often an unnoticed book comes our way that we feel deserves a much wider audience. Given the current religious season, we have excerpted a few introspective passages here.




advice
Ask Wendy
By Wendy Belzberg

This week: Family peace, but at what price?
~
Our pundette is on call when you need her. Wise and wacky --- and a lot cheaper than a shrink!
DEAR JWR READERS
JWR IN THE NEWS --- LITERALLY!


Your favorite website was recently profiled by the prestigious wire service, United Press International (UPI). Writer Lou Marano did an absolutely amazing job capturing, not only what makes JWR tick --- but also the overall situation we are facing. If you have a free moment, click here to view the feature-length article.


In friendship --- and gratitude,
Binyamin L. Jolkovsky,
Editor in Chief
JewishWorldReview.com


[ D A I L Y I N S P I R A T I O N ]



WISDOM EACH DAY:
Healthy, vanity-free self-esteem




[ L I F E S T Y L E S ]

Veteran conservative columnist Don Feder returns to the fray

Protein promotes, prevents cancer

Dr. Peter Gott: Drug/grapefruit interaction; lung cancer as a cause of shoulder pain

Consumer Reports on JWR: A bowl of cereal per day ...



[ I N S I G H T ]

Lou Dobbs: There's no better time for leaders to show resolve

Richard Lederer: On language: How wise is proverbial wisdom? (FUN!)

Argus Hamilton's political zingers!

Capital Comment: Daily news notes, political rumors, and important events that shape politics and public policy in Washington and the world

Jonathan Turley: This country's hidden strength (INSPIRING!)

Lenore Skenazy: War and love: Romance rises from the ashes

Catherine Seipp: Oxygen network revived

Mitch Albom: Worshipping a false 'Idol'

Steve and Cokie Roberts: Liberty International? Fuggedaboutit!

Art Buchwald: Signing books is half the fun

Jeff Jacoby: Against moral confusion / 9-12-2002 (EXCELLENT!)

Bob Greene: The day that infamy pulled a vanishing act

Laura Ingraham: The Today Show v. guns

Michael Ledeen: America's revenge: To turn tyrannies into democracies (SUPERB!)

David Limbaugh: Opponents of invading Iraq should answer questions

Dick Morris: Are Dems insane on Iraq?

Ann Coulter: My name is Adolf

Amity Shlaes: No Mirror for Europe; US is a picture of unity (SMART!)

Larry Elder: U.N. inspections -- Clinton vs. Clinton

Bob Tyrrell: Chickens and poseurs

Cal Thomas: Remaining structural defects

Thomas Sowell: Random thoughts





[ W O R T H 1 0 0 0 W O R D S ]

Mallard Filmore

Lurie's World

Gary Varvel

Jeff Koterba

Bob Gorrell

Joe Heller

Wayne Stayskal

(Att. working columnists and editorial cartoonists: Think you have what it takes to be featured on JWR? Drop us a note. And readers: We're always open for suggestions!)



[ F A S T P O L I T I C S&nbsp ]








require ("t-ssi/rtorah.html"); ?>